Creative design tips for e-mail signatures
Do you want your e-mail signature to pop, especially when printed? Jay Nelson walks us through the process of designing eye-catching e-mail identities.
Since there's no such thing as "tracking" in e-mail (spacing out characters in text), the example above has a space between each letter, and an extra space between the first and last name. The name is formatted in 12-point Verdana Regular and colored orange. The dashed line is formatted the same way, but in a larger 17-point size—for a thicker line, you could use Verdana Bold. The phone numbers are formatted in 12-point black Verdana Regular, and the bullets are also 12-point Verdana Regular, but colored light purple.
A bonus to this design is that if your e-mail recipient has all formatting turned off, it will degrade gracefully to a signature line that is still attractive.

Below is a good example that uses Times New Roman, in various sizes and styles, centered by using multiple spaces before each line, with vertical bars between items and a judicious use of color.

In this example, the signature degrades fairly well, but because the name was in a larger point size, the lines of type don't quite line up.

The above examples use just one font quite successfully. If you want to use more than one font, I suggest limiting your choices to just two. It's better to use color and size to differentiate the parts of your signature rather than additional fonts. Here's one that uses two fonts—Verdana for the company name and Arial for everything else—in multiple colors and sizes.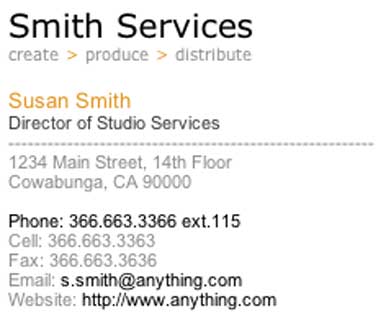 Note the clever use of colored angle brackets in the second line to imply a sequence of services. Also note that rather than using a smaller type size for the less important information, it's simply colored gray instead of black. The most important information (phone number, e-mail address, and Website) is colored black instead of gray.
Sometimes, only color is needed, as in this example from a "green" supply company.

John formatted his name in 16-point Verdana, with his title at 12 points and everything else at 13 points.
If you're certain your recipient will be using a Mac, you can try something like the following.

Here, the Apple logo is from the Lucida Grande font (which all Mac users have), and all the rest is in Arial regular or italic. Also, to set it off from other text, every line is inset with a few taps of the spacebar.