Creative Sound Blaster Roar 2 review: Truly the Leatherman of portable Bluetooth speakers
I'll say it again: Creative's Sound Blaster Roar 2 is the Leatherman of portable audio devices.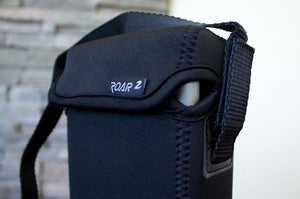 The free carrying case would be much more useful if the speaker could be used while it's inside. Credit: Michael Brown
You can operate the Roar 2 either vertically or flat on its back. Rubber bumpers on both sides will prevent it from marring your furniture. The speaker supports the AptX and AAC audio codecs, but it doesn't send transport controls back to a Bluetooth device. You can adjust playback volume from the speaker, but its play/pause, track-forward/back, shuffle, and repeat buttons work only with its onboard music player. That's kind of a drag. Also a drag: The otherwise very nice neoprene carry bag. It does a great job of protecting the speaker in transit, but you must pull the speaker out of the bag to use it. Oh well, at least it's free.
The Roar 2 is a very good, well-balanced speaker whether you're using it for near-field listening or looking to fill a moderately large room with background music. Bluetooth range was also impressive. With my phone in my home office on its charger, I was able to take the speaker to every room except my difficult-to-penetrate home theater and the master bathroom (which is on the far side of the home theater). I found the Big Jambox to be just a bit more musically pleasing to my ears when playing to fill a room, but I liked the Roar 2 much, much better for near-field listening. The JBL Xtreme is musically inferior to both the Big Jambox and the Roar 2 unless you're an absolute bass fiend.