Dell XPS 12 Ultrabook: Haswell refresh adds performance
Dell's cleverly designed laptop/tablet improves with new CPUs. It runs faster and lasts longer, but is still premium priced
Dell's XPS 12 Ultrabook Convertible is one of the better marriages of laptop and tablet. The version reviewed here, which Dell shipped over the summer, isn't tremendously different from the original XPS 12: It's slightly thinner and a little lighter, but it's powered by one of Intel's new Haswell-class processors. That update helps the new XPS 12 deliver better performance and much better battery life than its predecessor offered.
This machine's key feature is a 12.5-inch touchscreen with a native resolution of 1920 by 1080 pixels that pivots inside its aluminum frame--just as on the original. Open the lid, and you can use the computer as you would any other notebook. You simply push the top front or bottom back of the display to pop it out of its frame, and then flip it over and close it to convert the machine into a tablet.
The configuration we tested consisted of an Intel Core i5-4200U processor, 4GB of DDR3/1600 memory, and a 128GB mSATA solid-state drive. It posted an excellent Notebook WorldBench 8.1 score of 296, and the Windows log-in screen appeared in just 9.2 seconds. Tested battery life was a cool 6 hours, 49 minutes: That's enough for a coast-to-coast plane ride with time to spare, and it's 2 hours longer than the battery life of the first XPS 12 we reviewed, which used an Intel Core i5-3317U CPU.
The XPS 12 still relies on integrated graphics, so don't expect to play hard-core games on it. Dirt Showdown played at 44 frames per second at 1024-by-768-pixel resolution and low visual quality, but you'll need to drop most games down another notch for smooth play. Video looks superb, and the system easily handled high-bit-rate high-definition video. If you want to use an external display, you'll need a Mini DisplayPort cable (the beauty of DisplayPort is that you can buy adapters for any other type of display, including analog VGA for when you need to use an old-school video projector).

ROBERT CARDIN. The redesigned model is thinner and lighter than the original.
Although Dell has reduced the XPS 12's weight to 3.35 pounds (the earlier model weighed 4 pounds), it's still too heavy to hold in one hand and use as a tablet for any length of time. Dell also needs to outfit the XPS 12 with better sensors for detecting the screen's orientation. I often had to pick up the unit and manipulate its angle before it would rotate to the correct orientation.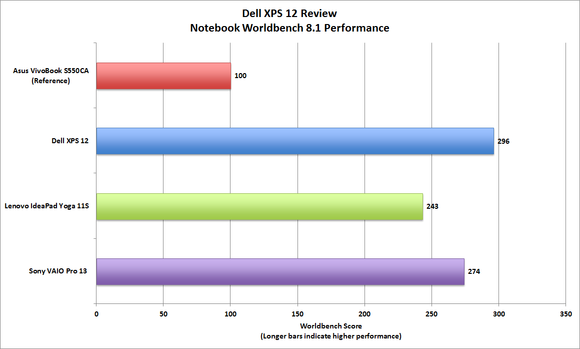 Dell's XPS 12 earned an excellent Notebook WorldBench 8.1 score, although its gaming subscores were low.