Dell XPS 12 Ultrabook: Haswell refresh adds performance
Dell's cleverly designed laptop/tablet improves with new CPUs. It runs faster and lasts longer, but is still premium priced
I have no complaints about the XPS 12's excellent backlit keyboard. Being a writer, I consider keyboards to be a big deal, and I wish every laptop had one that felt as good. The layout is spacious, the keys are slightly sculpted, and the feel is nothing short of fantastic. The touchpad and touchscreen are also nicely responsive.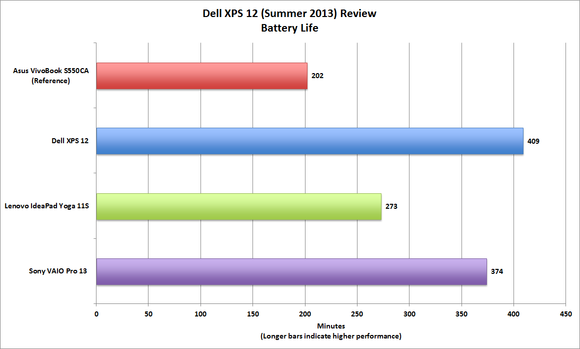 Battery life is excellent at 6 hours, 49 minutes.
The XPS 12's audio system is better than average for its class, too. The low-end emanating from the speakers is more low-mid punch than thump, but I could pick up the bass in the intro to Van Halen's "Runnin' with the Devil," a frequency that stymies many portable devices.
The XPS 12 has just two USB 3.0 ports, one of which is always on for charging devices such as a smartphone or a digital media player. A headset jack and a built-in dual-array mic sit next to the webcam for videoconferencing. The machine has no hardwired ethernet, but this is one of the few laptops we've seen to boast an integrated 802.11ac adapter (Intel's dual-band Wireless-AC 7260, which also supports Bluetooth 4.0 and Intel's wireless display technology).
The Dell XPS 12 is well equipped, fast, and fun to use. Like most convertibles, it's better as a notebook than as a tablet.