Disney files patent for near instantaneous 3D printing
Disney claims its technology could print in minutes what other machines take hours to make.
Disney Research has filed a patent for a 3D printing technology that uses high-intensity light to harden photo-sensitive resin in a single process, removing the need for layer-by-layer printing.
The patent describes a machine for printing in "a nearly instantaneous manner."
"Presently, 3D printing is extremely slow and time consuming. For example, it may take several hours to print a single 3D object even if the 3D object is relatively small (e.g., several inches in diameter and four to 12 inches tall)," Disney stated in its patent filing. "The 3D printing process that uses conventional 3D printers ... is limited in its speed by the speed of the mechanism moving the print head to each new position on a print layer."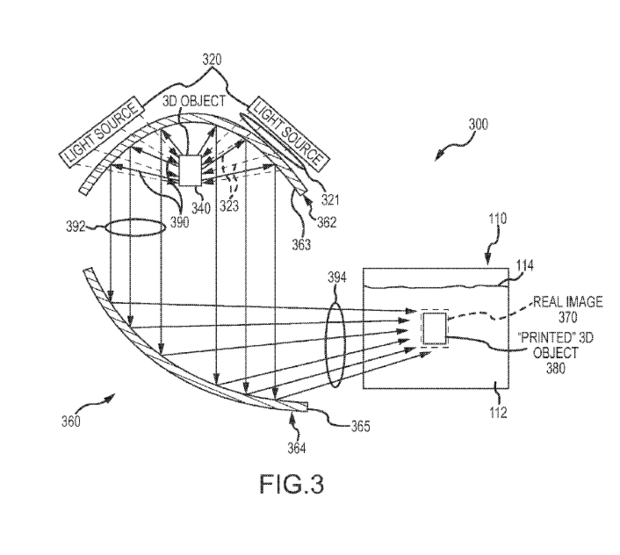 A side view of a 3D printer with one optical assembly providing a real image within a print chamger or vate of photocuring resin. Credit: Disney Research (Click for larger image).
Similar to stereolithography (SLA) 3D printing, Disney's "3D Printing by Volumetric Addition Through Selective Curing of a Fluid Matrix" uses two or more high-intensity light beams to harden photosensitive resin.
Unlike SLA printers, however, Disney's proposed printer would not harden resin by drawing the outline of an object layer-by-layer. Instead, the entire object would be projected into the center of the resin, creating a whole model at once.
The patent describes a "blue light" with a 450 nanometer (nm) wavelength, a "violet light" with a 405nm wavelength and an "ultraviolet light" with a wavelength of 365nm. The 3D printer would use resins that cure with invisible wavelengths that are less affected by ambient light.
The photosensitive resin would also need to both absorb and transmit light at the curing wavelength. "The maximal curing depth determines the size of the largest object that can be cured. Higher transmission results in a slower rate of curing," Disney wrote.
The printed object, which would be supported by the thick resin itself, could simply be lifted out once it was finished.
"In several test operations, a 3D printer using photo-curing liquids has been proven effective in generating 3D objects in several minutes or less rather than several hours," the patent stated.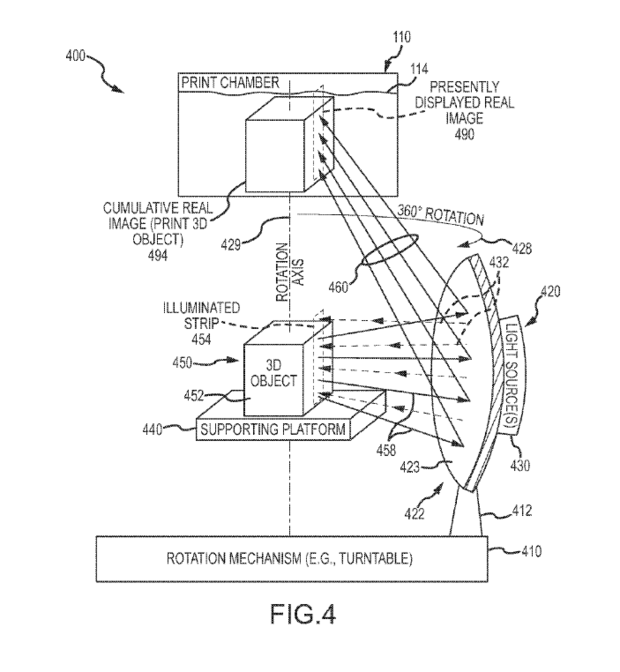 A functional block view showing another 3D printer using an optical assembly including a rotating curved mirror to provide real images in a photo-curing resin. Credit: Disney Research (Click for larger image).
The SLA printer is not Disney's first foray into additive manufacturing.
Disney Research filed a patent for a "Layered Fabric 3D Printer" that works like a fused filament fabrication printer, but cuts out patterns using "off the shelf" fabrics. The layers of fabric are then bonded using a heat sensitive adhesive.