Does Skype for Web mean WebRTC is ready for prime time?
Attitudes to standards in web browsers will dictate what you'll be able to do on your device.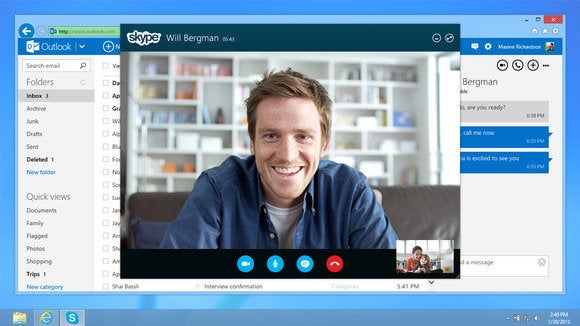 Microsoft's upcoming Skype for Web service will use the new WebRTC standard so it works in all modern browsers -- but not right away: Early users will have to download a plugin that's only available on Mac and Windows.
That's something Microsoft has already done for years in its Lync universal communications product. The reason for it lies in the complexity of building real-time communications, and the often-complex way web standards are developed, approved and built into browsers, especially the audio and video formats they use (known as codecs).
According to Bernard Aboba, the principle architect working on Skype, the plugin is a miniature version of Skype. "For audio it uses much of the same technology as the mandatory WebRTC codecs. It has a technology called forward error correction so it's robust to packet loss and it can handle a wide range of video bandwidth. On the video side, it relies on the H.264 codec. It also supports simulcast and scalable video codecs, which allow video to scale all the way from a mobile device up to a large desktop system with a large screen, and have all those devices participate in a call at once."
"Those are the technologies that need to be supported in WebRTC to give a good experience," said Aboba. Without them, calls could be hard to hear and video choppy and interrupted.
But they're not in any browsers yet, so Skype can't just use them. "No browser today supports a combination of H.264, simulcast and scalable video codecs. Chrome has simulcast and scalable video codecs and even multi-stream video, but it doesn't have H.264. Firefox supports H.264 but doesn't support simulcast or scalable video codecs or even multi-stream video. IE recently announced it will support H.264, as well as ORTC which by design supports simulcast and scalable video codecs, but that's [in the future]," he said.
He's encouraged by discussions at a recent meeting of the Internet Engineering Task Force. "There may be some progress happening on getting H.264 implemented in multiple browsers, which would be helpful."
Although it may seem as if WebRTC has been around for a while, even Google Hangouts didn't switch to using WebRTC instead of a plugin until July this year -- and the WebRTC 1.0 standard isn't finished yet.
That's partly because real-time communications are intrinsically difficult. "It's just really hard stuff to get right," said Michael Champion of Microsoft Open Technologies, the Microsoft subsidiary that builds prototypes of open technologies Microsoft is interested in. "The standards are higher than in some technologies; when your video is jumpy it's very obvious to everyone."