Eclipse TD-M1 review: These US$1300 wireless speakers excel as near-field monitors
There's a lot to like here, but the TD-M1 needs a more powerful amp and better bass repsonse to fully justify its lofty price tag.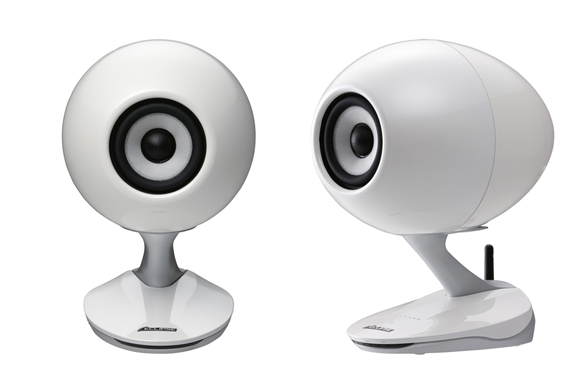 Fujitsu is known for building computers and scanners. So when the company asked if I'd be interested in reviewing these high-end speakers, my first reaction was "Fujitsu makes speakers?" As it turns out, the speakers come from Fujitsu Ten, a subsidiary that also builds car-audio and navigation systems and generates revenue in excess of $2 billion a year.
Still, the Eclipse TD-M1 Wireless Speaker System is clearly someone's passion project; they're unlike any speakers I've seen or heard. But passion plus different doesn't always equal a compelling price/performance ratio.
Look at the materials, design, and construction of the Eclipse TD-M1, and you can see why it's priced at an eye-popping $1300. The resin-based enclosure is egg-shaped to suppress internal standing waves (which can enhance some frequencies while causing others to disappear), and it's extremely dense to prevent undesirable resonance. The 3.14-inch full-range driver, with a fiberglass cone, practically floats inside this enclosure, with thick pads at the contact points to dampen vibration.
The right-hand base houses the system's electronics. There's a 20-watt digital amplifier, a Wi-Fi adapter that's also compatible with Apple's AirPlay technology, a Wolfson WM8742 DAC that can handle 24-bit/192kHz sampling rates, and a USB controller that can do the same. The speakers are ostensibly wireless, but they still need one cable for power and a second to connect the left speaker to the electronics in the right. This three-foot cable is hardwired to the right one, which limits the distance between the two speakers, but that won't be a big issue in most deployments (unless you're placing them on either side of a really big TV). You'll need additional cables in some other situations, such as using the speakers as a USB audio device.
Each speaker is perched on a stalk to further isolate it from its base. Friction levers on each 5.8-pound speaker let you adjust the angle of the enclosure from 0 degrees (horizontal orientation) to plus-10 or plus-20 degrees, so you can angle the speakers up but not down. If you're nervous about leaving the drivers exposed (small children just love inverting cones by poking them with their fingertips) Fujitsu provides a set of magnetic grills to cover them.
Fujitsu anticipates nearly any connection scenario can you think of, with inputs on the rear of the right-hand base for analog stereo (1/8-inch Aux), USB Type A (for directly hosting an iOS device), and USB Type B (for connecting to a Mac or PC). The external Wi-Fi antenna mounts here, too. Given all the other hardware, the absence of Bluetooth support surprised me. This limits this system's utility with Android smartphones and tablets (you could use the analog input, but who wants to tether their handheld device to a speaker?).