Elon Musk says Tesla's next-gen Model 4 will be affordable for everyone
Tesla's Autopilot software reduces the possibility of accidents by 50 percent over human drivers.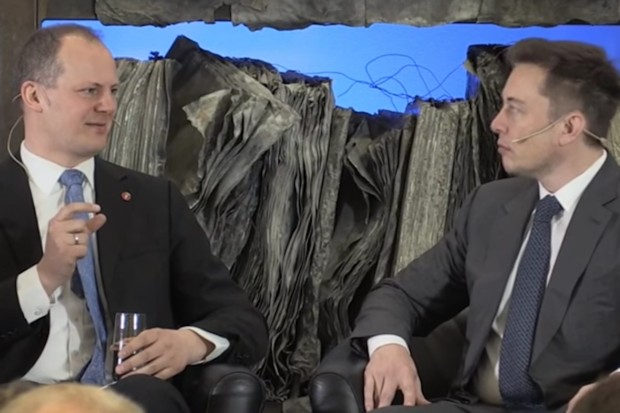 Norway's Minister of Transport and Communications, Ketil Solvik (left) participates in a Q&A with Tesla CEO Elon Musk at the Future Transport Solutions conference in Oslo, Norway last week. Credit: YouTube
Tesla Motors CEO Elon Musk gave the world a peek into how the company plans to follow its latest electric vehicle, the Model 3 sedan, saying the fourth generation of the vehicle will be affordable to nearly everyone.
During a question-and-answer period at the Future Transport Solutions conference in Oslo last week, Musk told Norway's Minister of Transport and Communications, Ketil Solvik, that with economies of scale and higher volume production lines, vehicle prices will drop.
The Model 3, which won't ship until mid-to-late 2017, has a starting price of around $35,000. That contrasts starkly with other Tesla sedans, such as the Model S, which have a starting price of about $70,000. And, Musk said, it will be one of the safest cars in the world. That's because the Model 3 will include Tesla's Autopilot feature, an advanced driver assistance system.

Tesla's Model 3 will have a starting price of $35,000 before federal and state EV tax credits. It is expected out by the end of 2017. Credit: Tesla
With a federal electronic vehicle (EV) tax credit of as much as $7,500, the Model 3's total cost may fall well below $30,000 -- and that doesn't include state tax credits.
"I'm super excited about being able to produce a car that most people can afford," Musk said. "And there will be future cars that are even more affordable down the road."
"With something like the Model 3, it's designed such that roughly half the people can afford the car," he continued. "With fourth generation and smaller cars and what not, we'll ultimately be in the position where almost everyone will be able to afford the car." While Musk did not offer a time frame for when a follow-on vehicle to the Model 3 would be available, he said the fourth generation (Model 4) vehicle would be even less expensive.
When asked by Solvik how long it will be before EVs will be as affordable as internal combustion vehicles, without relying on government subsidies and tax deductions, Musk pointed to subsidies oil and gas industries have enjoyed without the public's knowledge.
"The thing that people don't totally appreciate is that every fossil fuel car is quite heavily subsidized," he said.
For example, a study by the International Monetary Fund (IMF) found energy subsidies were projected to be $5.3 trillion last year, or 6.5% of global GDP.