Eyes-on with Oculus Rift's 'Crystal Cove' VR prototype and first launch game
EVE: Valkyrie is the first exclusive launch title for the Oculus Rift headset, and the improvements in the latest Rift prototype make it far more immersive than before.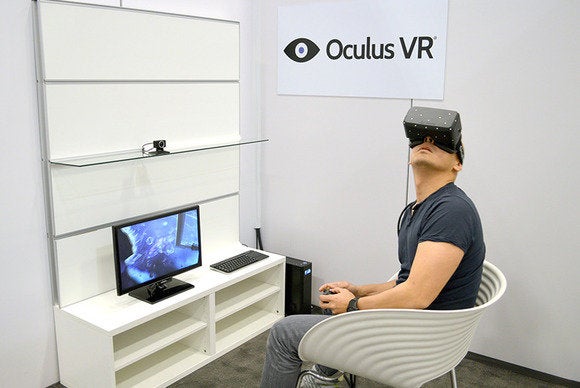 I've seen the future. Again. In a two-floor, marble-and-glass Vegas suite, an unassuming headset perches near a tiny computer tower. They look almost comically understated within such ostentatious surroundings.
But that headset is actually the latest Oculus Rift virtual reality prototype, codenamed Crystal Cove, and this suite was rented out by CCP Games, creators of EVE Online. We're here to take yet another look at EVE: Valkyrie, the studio's built-for-VR space dogfighting game.
This will be the third iteration of EVE: Valkyrie we've seen, and that, in and of itself, is interesting. The game has "grown up" alongside Oculus Rift. Each time we've seen EVE: Valkyrie—first at the E3 gaming convention last year on the original low-res developer kit, then on the 1080p HD model, and now on Crystal Cove—we've seen the state of consumer VR. It came as no surprise when Oculus and CCP announced EVE: Valkyrie as an exclusive Rift launch title (though when that launch will be, Oculus still won't say).
A glimpse into the future
So what does Crystal Cove mean for consumer VR? The latest Rift is notable for its rudimentary position tracking, implemented by way of an external camera and some fancy dots on the headset itself.
The camera is small—a few inches across at most. It's sized more like a webcam than Microsoft's enormous motion-tracking Kinect. The current model has us sitting approximately six feet away from the camera, for optimal performance.
I immediately see a problem—not so much with EVE: Valkyrie, but with Crystal Cove in general. "Are you looking to improve the camera so we can be closer to it? In particular for mouse and keyboard games, six feet is a bit far."
"This is not the final consumer version of the camera," says the Oculus representative in attendance. Not much to go on, but that's the Oculus way.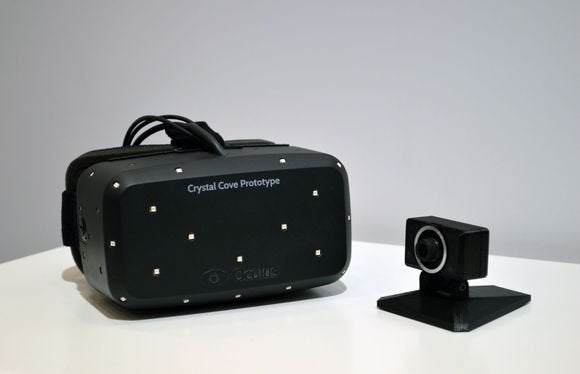 Now it's time to play.
The set-up is basically the same as the first time I played Valkyrie. I sit in a chair, strap on the Rift, put on headphones, and am handed an Xbox 360 controller attached to the nearby PC. Only this time, the chair is carefully placed in the view-path of the all-seeing camera.
The increase in screen resolution is immediately apparent if you're used to the original dev-kit Rift. I've used the HD Rift intermittently over the last nine months, but always to see relatively minimalist games—ones like Dumpy: Going Elephants that are visually engaging in a cartoonish way, but not attempting realism. Crystal Cove's screen is also AMOLED instead of LCD, which helps reduce judder and blur.