Facebook, Foursquare, and Flipboard lead a flood of big-name Windows 8 apps
The slew of announcements at Build 2013 show that Microsoft is taking its commitment to the Windows Store seriously.
Available now, the Rhapsody app is free, though you'll need a premium Rhapsody subscription to use it. Don't have one of those? You can sign up for a free trial right from the app's starting screen.
OpenTable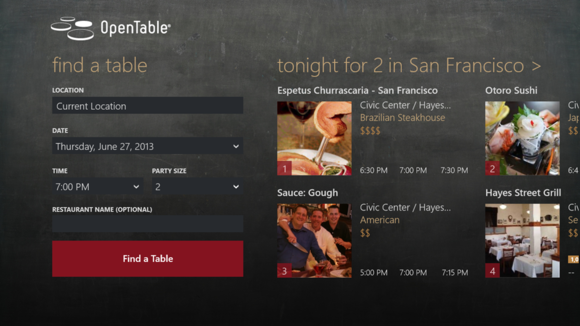 OpenTable lets you make real-time reservations at tens of thousands of restaurants across the country, making it handy-dandy for Windows-tablet-wielding foodies. Seriously, if a restaurant has any sort of Web presence whatsoever, you can probably find it on OpenTable—and you can find the OpenTable app in the Windows Store right now.
Rockmelt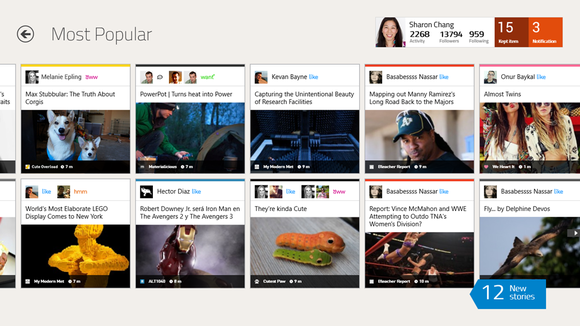 Rockmelt is kind of like Flipboard, but with a few extra wrinkles. In addition to displaying the sites, YouTube feeds, and social feeds you follow (in modern-tinged visual fashion, natch) on the opening screens, Rockmelt lets you check out the latest news in more than a dozen preset categories, like Cars, Business, Travel, and Tech & Geek. It's a pretty nifty app, and it, too, is available in the Windows Store right now.
NFL Fantasy Football
Now we know what all those NFL coaches are doing with all those Surface tablets: Playing fantasy football! At the Build keynote on Wednesday, Steve Ballmer announced that NFL apps are Windows 8-bound, starting with a Fantasy Football app. The exact release date is yet to be announced, but here's hoping we'll see it before opening day (September 5, in case you were curious).
Disney apps
The somewhat creepily named Where's My Mickey? is already available in the Windows Store, but that's just the tip of the torrent. Microsoft announced that Avengers: Initiative, Monsters University, Temple Run: Oz, Toy Story Smash It!, and Wreck-It Ralph apps are all inbound this fall.
Microsoft steps up its game
That's a flood of fairly big-name apps. In the weeks and months ahead of Build 2013, we saw additional high-profile Windows Store releases like MLB.tv, Nokia Music, Twitter, Vevo, and a Discovery Channel app. Build also brought a momentous under-the-hood announcement when the uber-popular Unity game engine announced support for Windows 8, along with Windows Phone 8 and Xbox One. And of course, Windows 8.1 packs a few new native apps of its own, like Reading List and Health & Fitness.
Yes, there are still some prominent Windows Store no-shows, but the recent announcements show that Microsoft's wooing of developers is finally starting to pay off. The Windows Store still has a long road to travel before it becomes a compelling destination, but at least it finally appears to be on the right track.
The next question: Can Microsoft keep up the momentum, or did it exhaust all its star power in a big Build blow-out? Keep an eye on the Windows Store in the coming months.