Feds want cars to talk to each other to avoid crashes
Vehicle-to-vehicle and Vehicle-to-infrastructure communication could stop up to 80% of non-impaired crashes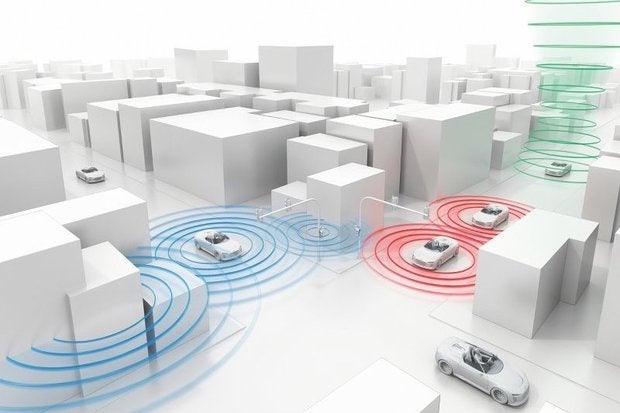 The U.S. Department of Transportation (DOT) has published a proposed rule that would require all light-duty vehicles to come with vehicle-to-vehicle (V2V) communications technology to help avoid collisions.
The technology, DOT said, could help prevent hundreds of thousands of crashes a year that occur when one vehicle is unaware of what another is doing.
"We are carrying the ball as far as we can to realize the potential of transportation technology to save lives," Transportation Secretary Anthony Foxx said in a statement. "This long promised V2V rule is the next step in that progression. Once deployed, V2V will provide 360-degree situational awareness on the road and will help us enhance vehicle safety."
General Motors
A 2015 Cadillac CTS with V2V technology notifies the driver of the approaching car.
The proposed rule, now in a 90-day comment period, would require automakers to include V2V technologies in all new light-duty vehicles (cars and trucks that weigh 10,000 pounds or less when fully loaded).
It also proposes normalizing the electronic language that vehicles use by standardizing messaging developed in the auto industry.
Separately, the Federal Highway Administration plans to soon issue guidance for Vehicle-to-Infrastructure (V2I) communications, which will help transportation planners integrate the technologies that allow vehicles to "talk" to roadway infrastructure such as traffic lights, stop signs and work zones. The goal: to improve mobility, reduce congestion and improve safety.
In February 2014, Foxx announced the DOT would accelerate its work to enable V2V, directing the National Highway Traffic Safety Administration (NHTSA) to begin work on the rulemaking. NHTSA issued an Advance Notice of Proposed Rulemaking in August 2014. That move complements the DOT's efforts to accelerate the development and deployment of automated vehicles.
Anticipating the NHTSA's connected vehicle mandate, automakers have been busily preparing the hardware and software components of V2V and V2I systems.
For example, Cadillac will deploy connected vehicle technology on at least one model in late 2016, with an estimated production of 40,000 vehicles.
And Audi last week announced that select 2017 Audi A4, Q7 and allroad models (built after June 2016) will be able to communicate with Wi-Fi-enabled traffic lights that can inform drivers when red lights will turn green.
Audi's "time-to-green" traffic light feature is the first to leverage the Audi Traffic Light Information service, which is the first step in V2I and V2V electronic communications for the automaker.
DOT
Here's how V2V communication technology could help vehicles avoid crashes at intersections.
V2I and V2V will eventually allow cars, motorcycles, trucks, buses and trains to "talk" to each other and to different parts of roadway infrastructure such as traffic signals, work zones, toll booths, and school zones. The exchange of information could make surface transportation safer, smarter and greener.