Five essential Mail rules
Overwhelmed by e-mail? Five essential Apple Mail rules can help you take control of your inbox. Learn how Mail can automatically forward, file, and highlight special messages and even trigger an alarm when certain correspondents write.
4. Automatically forward messages
There are some messages that I want to forward to other people or accounts, and doing so automatically saves time. For example, if you receive invoices by e-mail, you might want to set up a rule to forward them to your accountant.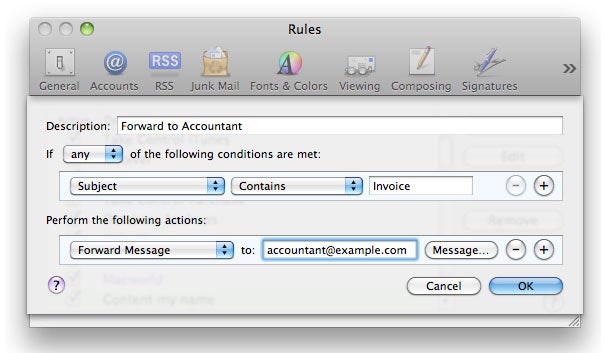 This rule automatically forwards messages containing the word "invoice" to an accountant.
Create a rule where the "Subject" "Contains" "Invoice," or any other word or phrase that you want to look for. In the actions section, choose "Forward Message" to an e-mail address. If you click on the Message button, you can even add a text that will automatically be inserted in the message being forwarded. You can use just this single action so you still see the message in your inbox, though you might want to add another action to file it away in a folder after it's forwarded.
5. Set off an alarm
Say you're waiting for e-mail from your kids, Alice and Bob. You can set up a rule that tells Mail to bounce the Dock icon, and play a sound, when such e-mail arrives.
This simple rule gives you audible and visual notification when you get a message from a certain person.
Just create a rule where "From" "Contains" an e-mail address; click on the plus-sign (+) to add more addresses. In the Actions section, choose "Bounce Icon in Dock" and "Play Sound", then choose a sound. The sound will only play once, but the Dock icon will keep bouncing until you click on it, so you'll know when these messages have arrived.
Previous Page 1 2 3