Forget smartwatches: Cuff's smart jewelry is wearable tech that women might actually wear
The CuffLinc provides simple notifications and security alerts via affordable jewelry.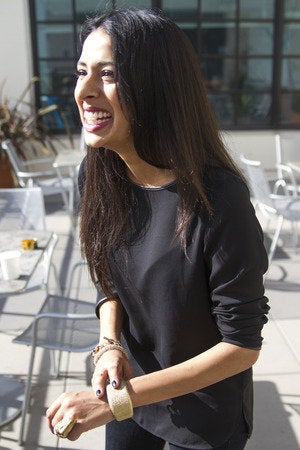 Cuff co-founder Deepa Sood shows off one of her pieces.
Wearable tech is plummeting down the gender gap. For every man who finds Google Glass too nerdy to wear in public, or the Galaxy Gear not quite his style, there's exponentially more women who wouldn't be caught dead in today's smartglasses and smartwatches.
But Deepa Sood says she has answer. It's called the CuffLinc, and it provides simple notifications and security alerts via—imagine this—affordable jewelry that many women might actually want to wear. Look at the photos. This isn't consumer electronics hardware. It's a scorched-earth response to the overwhelming dude-ification of wearable tech.
"I went to CES for the first time this year, and what I saw was an unmitigated disaster," Sood says. "Everybody is talking about the wearables opportunity, but nobody is doing it well. Did you see the Wrist Revolution area? Nothing there looks like Cuff."
Simple notifications and security alerts
Available for pre-order Tuesday on Cuff.io, Cuff is a modular system that includes 18 pieces of ostensibly non-techy jewelry, ranging from a keychain to pendants to leather and metal bracelets. You'd never know any of the pieces are attempting to redefine the wearables space, because Cuff's smart component, the CuffLinc module, is nondescript and usually hidden from view.
The system is focused entirely on quick, two-way communication between women and the important people in their lives. The CuffLinc, which can be inserted in any of the jewelry pieces for multiple accessory options, pairs with smartphones over Bluetooth and includes a vibrating motor for haptic notifications.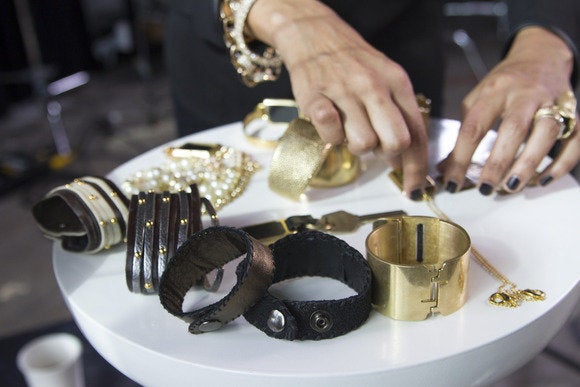 IMAGE: MIKE HOMNICK. Cuff's line-up currently includes nine pieces, each in two different finishes.
If you're wearing one of Sood's pieces (she designed all of them herself), you'll feel a buzz whenever someone in your Cuff network is trying to contact you. This isn't a phone notification, but rather an alert sent from the Cuff mobile app, which you can seed with people who need to reach you 24/7. "Say my phone is somewhere in my bag. It's ringing and ringing, and my babysitter really needs to get me. I've programmed her to break through to me. It will vibrate on my wrist, and I'll know to check my phone," Sood says.
You can also use CuffLinc to send alerts to people in your network. Let's say you're in immediate stranger-danger or have had a serious car accident in the middle of nowhere. You can give your jewelry a long, extended press, and people in your Cuff network will receive an SOS that includes your phone's GPS location, and whatever information you've programmed in for worst-case scenarios. This can include "insurance and allergy information, blood type, the kind of things you would need in case of an actual emergency," Sood says.