Forget smartwatches: Cuff's smart jewelry is wearable tech that women might actually wear
The CuffLinc provides simple notifications and security alerts via affordable jewelry.
If you're not in immediate peril, and just need to send a quick message without fumbling for your phone, you can use five different pre-programmed Cuff presses. For example, two quick presses could signal to your husband that you're on your way home. Or three quick presses could send a message to your daughter's Cuff app: "I'm trying to reach you. Pick up your phone."
The CuffLinc runs off a coin battery that's good for a year of use, and also includes an accelerometer, but that sensor will remain dormant when the jewelry begins shipping to customers this fall. "There's a lot of fatigue around the fitness space in wearables, and we didn't want to look like a copycat," Sood says.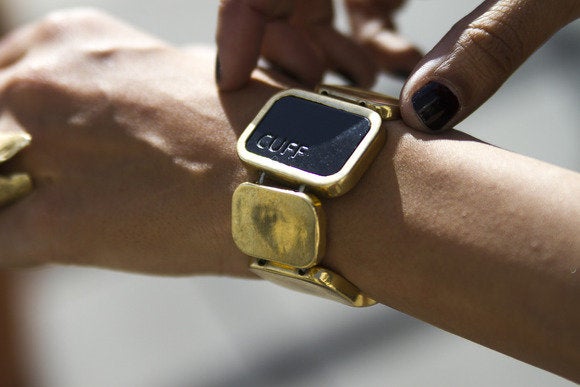 IMAGE: MIKE HOMNICK. Some of Sood's styles deliberately expose the Cuff module, but even these can be prettied up with a silhouette faceplate that matches the jewelry's finish.
'I would totally wear this'
Sood visited TechHive's offices last week to show off the jewelry, but didn't bring a working CuffLinc prototype, and couldn't demo a smartphone app. Everything I've seen so far looks like a system that answers a critical wearable-tech problem—clunky aesthetics designed by nerds for nerds—but it's unclear just how the Cuff technology will play out in real-world situations.
Take, for example, the possibility of false alarms. What happens if you press the face of your pendant by mistake? "Obviously, there's going to be false alarms," Sood says, "but you can turn it off in your phone, if say, your kids are playing with it. And you get feedback. It vibrates to let you know your message has gone through, and you can always go into your phone to disarm that alert."
There's also a small cost-of-ownership problem. The coin battery isn't user replaceable, so once it dies after about a year, jewelry owners will need to buy a new CuffLinc module for $25.
Still, if nothing else, I have to admire Sood's ambition to upend the wearables competition, which has written off a broad swath of women with butch designs. Sood quit her job as a vice president of product development at Restoration Hardware to launch Cuff with her husband and co-founder Sandeep, who runs the app consultancy company Monsoon. And now, with more than $400,000 in investment from Tandem Capital, Sood is lining up retail partners, and launching a platform for other jewelry manufacturers to license the CuffLinc technology.
While two women in the TechHive office blurted out "I would totally wear this" when checking out the jewelry, Sood concedes not every woman will dig her aesthetic and that working with other jewelry designers will help improve Cuff's appeal across age groups, and a wide range of personal tastes.