Fujitsu embeds data in LED light for smartphones to detect
Just aim a smartphone camera at a lit object and an app calls up relevant information.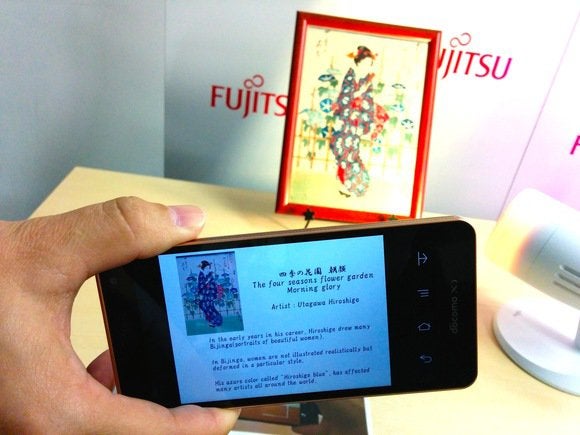 LED lamps lighting merchandise may soon shine invisible data that your smartphone can pick up.
Fujitsu Laboratories has developed a method to include ID data in LED light so that pointing a smartphone camera at an object it illuminates calls up linked information stored on a cloud server.
The technology could be used to retrieve information about products on display and even trigger a mobile payments system for purchasing them, according to Fujitsu. The technology could be used by retailers as well as in museums and art galleries or trade shows.
Fujitsu used color modulation to change the red, green and blue (RGB) mix in LED lights. By modifying the intensity of each color channel over time, the light can encode ID data without changing the visual characteristics of the light itself.
During a demonstration at a press conference in Tokyo on Monday, a Fujitsu staffer pointed a smartphone camera at a small mannequin and a traditional Japanese woodblock print illuminated with LEDs. A special app on the smartphone, which processes the image data and extracts the ID, instantly showed product info about the mannequin and the history of the print.
"The concept of Internet of Things is important right now, but I don't believe that everything can be connected to the Internet," said Akira Nakagawa, director of the Image System Lab at Fujitsu Laboratories. "But this system allows objects to be virtually connected. That was our motivation in developing it."
The method, which doesn't require the camera to take an actual photograph of the object, can be used with any form of light in which color modulation is possible with individual RGB channels, including light from projectors. It can work with any LED equipped with color modulators, which are widespread and inexpensive, Nakagawa said.
The ID embedding technology is in some ways similar to QR codes, NFC tags and visible light communication (VLC), a data communications method that can also be triggered by LEDs. Although the data speed of the LED method is relatively low at 10bps, it doesn't require a tag that alters the appearance of the object, Nakagawa said, adding that LEDs are also an attractive vector because they are becoming ubiquitous.
Since whatever is being illuminated and the light reflected into a camera lens become the trigger for the information download, the system can work with anything from museum exhibits to buildings or even people themselves to initiate the data transmission.
For instance, a performer could walk onto a stage lit by LEDs and anyone in the audience could point a smartphone at the show and download the song he or she is singing, according to Fujitsu. Another example would be encoding an ID in LED lighting for a historical exhibit that triggers text about it to be displayed in a user's native language.