Galaxy S6 pricing slips out: US$780 unlocked, at least in Spain
No word on U.S. pricing or cost of Galaxy S6 Edge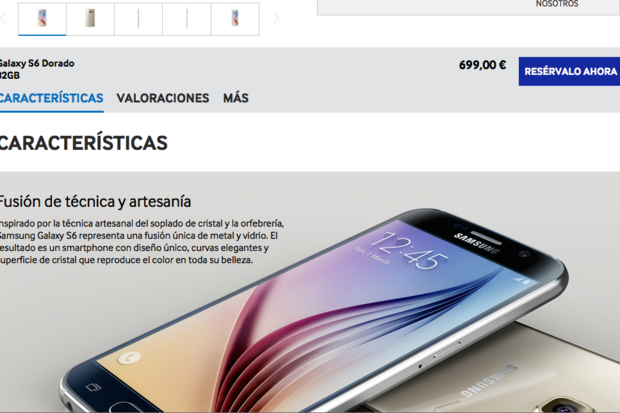 Samsung's new Galaxy S6 smartphone will sell for an unlocked price of 699 Euros (about $780) for a 32GB version, according to Samsung's website in Spain.
BARCELONA -- More details surfaced today on Samsung's new Galaxy S6 smartphone, including an unlocked price of 699 euros (about $780) for a 32 GB version, according to Samsung's website in Spain.
A Samsung spokeswoman said U.S. pricing will come from U.S. carriers, which hasn't yet been announced. She said pricing has begun to appear on Samsung's website for a few other European countries, in addition to Spain. The phone ships April 10 in 20 countries, including the U.S. Pricing still wasn't available for the new Galaxy S6 Edge smartphone.
Samsung didn't issue a statement announcing the price, but it was discovered on the company's Spanish site by Computerworld in a standard Web search done from Barcelona, where the phone was first announced on Sunday at Mobile World Congress .
The Galaxy S6 in Spain is labeled a "Dorado" edition, but appears to have the same features as the general Galaxy S6 version.
The unlocked Galaxy S6 price of 699 euros is a 20% increase over the 579 euro price for last year's Galaxy S5, which featured a plastic case. However, the new Galaxy S6 has Gorilla 4-strengthened glass on the front and back with an aircraft-grade aluminum edge and other features that show Samsung is going for a premium product that is now, apparently, backed by a higher price. The new Galaxy S6 and the Edge both have 64-bit processors and, for the first time, support Samsung Pay and embedded wireless charging.
Analysts have raised concerns that Samsung might put the latest smartphone prices out of reach of some consumers in an attempt to bolster a premium image in the minds of buyers. That thinking could apply especially to the new Edge, which features strengthened glass wrapped partially around the left and right side edges to evoke a higher sense of style.
Still, at $780 for a 32GB Galaxy S6, the price compares well to the $849 pricetag for a 64 GB version of the iPhone 6, as advertised on Apple's website.
The biggest question is how much Samsung plans to charge for the Edge, which could be significantly higher than the Galaxy S6, said Carolina Milanesi, an analyst at Kantar Worldwide.
Also today, Samsung showed a crowd of more than 300 developers at the conference how its latest Galaxy phones will fit in well with security and management support at enterprise IT shops. Samsung officials laid out ways that its recent partnerships with Google for Work, BlackBerry, Microsoft, Citrix and Oracle can benefit IT shops that support workers with smartphones, either those owned by the company or owned by employees.