GE to pay $1.4B for two 3D printing companies to expand manufacturing
GE expects to grow its annual 3D printing business to $1 billion by 2020
General Electric today announced plans to spend $1.4 billion to acquire two of the world's top suppliers of metal-based 3D printing manufacturing equipment, Arcam AB and SLM Solutions Group AG.
Both companies will become part of GE's Aviation division, where the technology will be used to increase GE's production of aircraft components and other parts through additive manufacturing.
Turbine blades with internal conformal cooling channels to improve performance of jet engines printed by SLM Solutions using selective metal sintering. SLM can use a range of metal powders to print from non ferrous, tool steel, stainless steel and light alloys.
the range of our standard metal powder:
Non Ferrous, Tool Steel, Stainless Steel and Light Alloys
the range of our standard metal powder:
Non Ferrous, Tool Steel, Stainless Steel and Light Alloys
GE said it expects to grow the new additive manufacturing business to $1 billion by 2020 "at attractive returns" and also expects $3 billion to $5 billion of product cost-out across the company over the next 10 years.
"This is very big news!" Terry Wohlers, president of industry research firm Wohlers Associates, said in an email reply to Computerworld. "It could definitely help advance the development and adoption of metal additive manufacturing technology."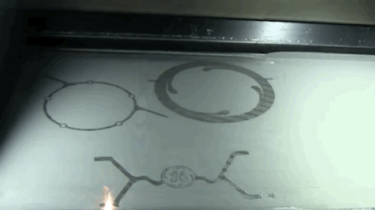 A jet engine's parts being printed using direct metal laser melting. At the bottom left, the laser can be seen melting the powdered metal alloy.
As a whole, the additive manufacturing (3D printing) industry grew 25.9% last year to $5.1 billion in sales and services, according to the 21st edition of the Wohlers Report.
The compound annual growth rate (CAGR) over the previous three years was 33.8%; over the past 27 years, the CAGR for the industry has been 26.2%.
Worldwide revenues from additive manufacturing and 3D printing are expected to reach $12.8 billion by 2018, according to Wohlers Associates. By 2020, Wohlers forecasts revenues from all products and services in the 3D printer industry to exceed $21 billion.
UPS and SAP parterned last year to offer a 3D printing service that will be able to create parts and products materials ranging from metals to plastics.
In 2015, 62 manufacturers sold industrial-grade additive manufacturing systems that were valued at more than $5,000, compared to 49 in 2014. That's twice as many as the 31 companies that sold industrial systems in 2011.
"European companies dominate the metal [additive manufacturing] space," Wohlers said. "Arcam and SLM Solutions are among the top companies in the business of offering machines that produce metal parts by additive manufacturing. Arcam is different from most other metal [additive manufacturing] machines because it uses an electron beam as the energy source, whereas SLM Solutions and most others use a laser."