Google details its vision for the IoT
Google readies developers to build the IoT, starting with its open version of Bluetooth Low Energy beacons.
At its Ubiquity IoT Developer Summit last Monday, Google presented a complete vision of the Internet of Things that consists of open source code and designs that are ready for prototype and pilot projects.
Google's version of IoT standards, open source frameworks, and cloud services are compelling, but puts it in a highly competitive market. However, Google's long-term R&D investments in machine learning, cloud, and geo-location technologies uniquely differentiate its vision.
Machine learning to teach IoT networks to behave intelligently
If This Then That (ITTT) rule engines have been applied to controlling and integrating IoT devices. A good example of ITTT might be a thermostat instructed to send a push notification to a user if the house temperature drops below 50 degrees during the day when no one is home.
ITTT works well for many applications, but its recipes are constrained by the complexity of creating rules for larger and larger systems. Google's open source machine learning project Tensorflow gives developers the tools they need to build large, intelligent IoT networks of sensors to do things like smooth the traffic flow through a city, for example.
Using Bluetooth LE beacons and cloud for geolocation
For more than a decade, Google has invested in outdoor geolocation research to build APIs that developers can use to build geographic position into apps for navigation and geofencing that leverage GPS, Wi-Fi, and cell towers to locate people and things.
Google's Eddystone - its open source Bluetooth Low Energy beacon - brings geolocation indoors, increasing the resolution from meters to centimeters either as longitude and latitude or relative scale within the confines of a building. Google has about 20 Eddystone beacon manufacturing partners at this time.
Eddystone uses broadcast-only radios operating at a range of frequencies that send small packets of data called frames configured with unique IDs, URLs, or application-specific data. Google will provide a cloud-based registry of information of every Eddystone beacon that app developers can use to store the meaning of each beacon. The plan is to make the cloud registry capable of scaling to manage tens of billions of unique devices with Google's large-scale systems experience and the IoT domain experience of its Nest team.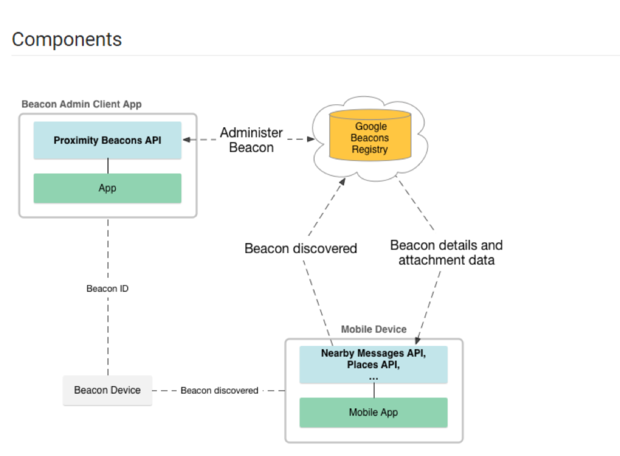 (Click to expand). Credit: Google
The frame payload and radio frequency can be provisioned, but the devices are broadcast only to eliminate privacy and security concerns. The beacon's identifying payload can be resolved by iOS and Android apps using the cloud registry to learn the beacon's meaning, context, and exact location. Location can be optionally integrated into Google Maps or can remain a relative position in a semantic location graph.