Google details its vision for the IoT
Google readies developers to build the IoT, starting with its open version of Bluetooth Low Energy beacons.
A good example is Google's pilot app with the city of Portland, through which they equipped each public transit stop with a beacon, successfully providing real-time transit status within a half-second of the traveler's arrival.
Brillo and Weave: Table stakes
Brillo and Weave were announced during the annual worldwide Google Developer Conference last May. Not surprisingly, Google turned to Android for its IoT operating system Brillo because it already has huge scale and wide hardware support. It is a subset of Android/Linux, which gives Google an ecosystem of development tools, millions of experienced Android developers, and internal and community support infrastructures.
IoT manufacturers have flexibility in price-versus-performance design choices because Brillo supports many different silicon device architectures. Brillo follows other IoT architectures by Qualcomm and ARM with a security framework to protect apps from exploits and authorize OS and app updates.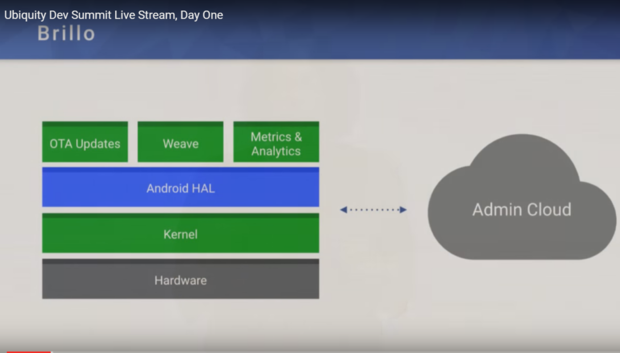 (Click to expand). Credit: Google
Weave is the network architecture designed for low-power, low-speed small packet communications compliant with the early IEEE 802.15.4 standard adopted by chip makers like NXP and Freescale.
First specified in 2003 and proved viable by commercial products built with ZigBee and ISA100.11a, it is a stable networking building block that is extended to support the billions of IoT nodes and sensors with 6LoWPAN, which provides IPv6 addressing to huge, pervasive low-power networks.
Compatibility, security, and privacy standards
In a call to action for the IoT industry, Google's lead advocate Vint Cerf, also known as one of the "fathers of the Internet," warned that compatibility, security, and privacy could be obstacles to the IoT's success. Cerf acknowledged the necessity of standards by stating that the IoT can't be built if millions of hubs are needed to interconnect incompatible islands of sensor nodes. He also spoke about the necessity of secure app and operating system updates.
Cerf cited an example of the potential privacy threats that could emerge with these billions of sensors. To stress the importance of shared sensor data, he pointed out how first responders could benefit from using location data to rescue a victim trapped in a home fire. But he also acknowledge that criminals could use the same shared sensor data to determine when people are away from home and plan a robbery.
The IoT remains at an early stage of development and adoption. Google has open source beacons, networking, an OS, SDKs, and machine learning, all of which enables developers and manufacturers to begin building consumer products. All this open source software will take time to mature, and for developers to learn. There will be some midcourse corrections to strategy and specifications to keep pace with an evolving new industry.
The key takeaway from the Ubiquity summit is that Google is the only company with a comprehensive vision with advanced machine learning, geolocation, and cloud technologies to knit all the pieces into the IoT.