Google quietly updates local search with an image carousel
An addition to Google search introduced with little fanfare this week is a carousel of images served up with local search returns.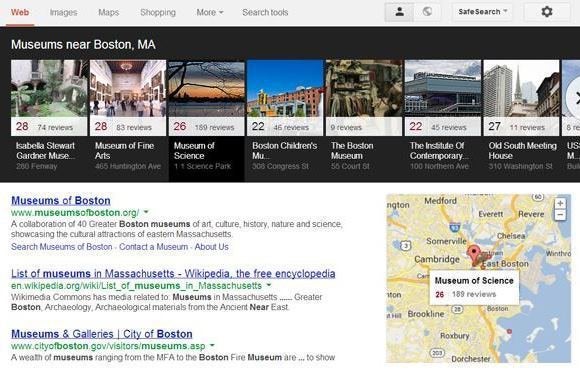 It's hard to keep track of new Google features. They can show up as Google trial balloon and surprise you one day. And then the next day poof they're gone. But one big addition to Google search-introduced with little fanfare over the past couple days-has been a carousel of images served up when making local search requests.
If you've searched Google for something local recently there is a good chance you've seen what I'm talking about. Google's local carousel showcases images of nearby business or attractions related to your search query (see image above). The new layout has been rolling out to the public over the last couple days.
Try searching for "coffee spots near me" or "museums near Chicago" and there is a good chance you'll see a strip of images of businesses or points of interests presented horizontally across the top of the Google search results page. A small Google Maps window will appear just below to the right of the carousel. Hover over an image in the carousel and a corresponding Google label lights up on the Google Map showing you where the business or attraction is located.
The new layout is an update to Google's integration of local search results and Google Maps. It's also an expansion by Google beyond just mapping restaurants and hotels on Google Maps. According to the site AutoRevo , Google's new carousel works with 54 different queries such as nightlife, hiking, soup, and dog parks.
The layout is far superior to the old way Google tied local search results to Google Maps. Before Google delivered the names of businesses on the left and a Google Map on the right. You used letters of the alphabet to match business "A" with the "A" on Google Maps.
Google's local search results now are more engaging and more informative. Google's local carousel not only includes images but also integrates Google's own version of user reviews and its Google/Zagat reviews. Just click on a business listed in the carousel and Google delivers an information card with directions, address, a phone number, and has links to read or write reviews.
The feature isn't perfect. In my quiet corner of Boston I don't see a local carousel for much beyond the obvious. A search for "dog parks near me" doesn't trigger the carousel to appear and neither does "liquor stores near me." When local search fails it reverts back to the old way Google delivered local results.
This new local search carousel plays right into Google's big Maps update announced last month. Google Maps now encourage much more social interaction with maps and prods users to rate, review, and add comments to local landmarks and businesses within the app. Local search will both exploit Google Maps more efficiently and help it get better. Listen to Google describe how we all will help Google Maps (and in turn local search) improve over time: