Hands-on: The 2nd-gen Moto 360 is probably the next best Android Wear smartwatch
It's good-looking, has good specs, and you can customize the style to your liking.
It's probably a good watch?

The Moto 360 has all the same workings as other Android Wear watches. Credit: Florence Ion
Motorola did a little work on the insides of the new Moto 360, too. It eschewed the OMAP processor in favor of a Qualcomm Snapdragon 400, though it kept the storage and RAM capacities the same as its predecessor. It was sort of weird to have the Moto 360 be the only Android Wear smartwatch with a different processor than its competitors, so good for Motorola for jumping on the bandwagon along with everyone else. Might as well level the playing field.
I can't really comment on performance yet. Smartwatches are not like smartphones; I can't get an inkling of what the interface is like just by toiling with it for a bit, especially if the device is in Android Wear's demo mode. I need time to wear it out in the wild, have my phone bombard it with notifications, and take it on a trip with me. I believe that the true test of any smartwatch is whether or not it works while you're running through an airport. The last time I used a Moto 360 was while walking through McCarran International Airport in Las Vegas, and it failed miserably. It didn't understand a word I was saying and I got so frustrated, I tossed it in my bag and went back to my smartphone. I'm curious to see how this new Moto 360 fares in my airport test.

The women's watch on a woman's wrist. Credit: Florence Ion
At the very least, Motorola bumped up the battery to 400mAh—at least in the larger model. The smaller 42mm models offer a 300mAh battery pack, which is about standard for most Android Wear watches these days. Motorola says the larger model should last up to two days with Ambient Mode off, but I'll believe it when I see it. The bummer of the last Moto 360 was its shoddy battery life, and it's going to take a bit to convince me that Motorola's changed things this time around.
Customizing is fun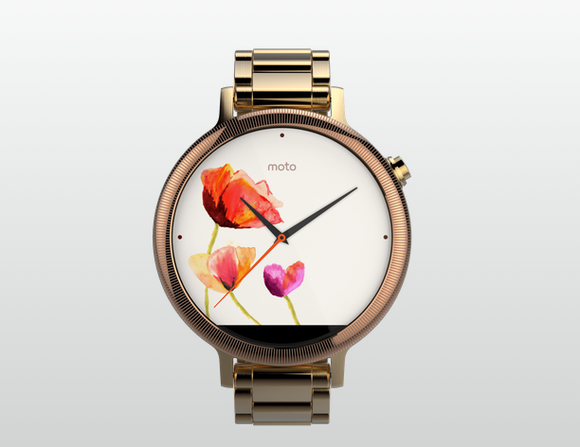 This would probably be my Moto 360.
Even if you don't buy Motorola's second-generation Moto 360, it's really fun to pretend to make your own. All three watch sizes have their own bezel texture you can add on for an extra $20, which makes the Moto 360 look more watch-like and less like some techy thing. You can also add a metal chain link band for $50 more, and then choose a watch face so that it's ready to use when it arrives.