Hands on: The new 27-inch iMac with 5K Retina display shows stunning detail
Apple rolls out its biggest Retina display ever, with 14.7 million pixels across 27 inches of bright, beautiful screen.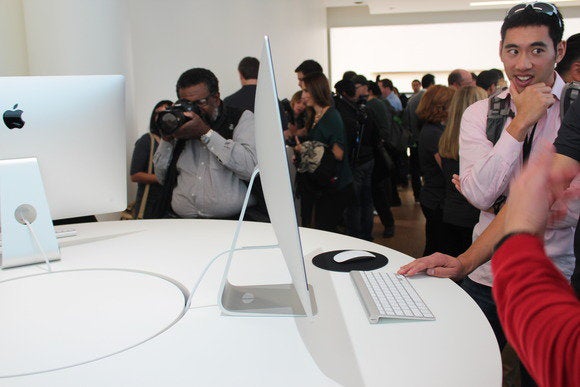 SUSIE OCHS. The super-slim iMac body is unchanged, tapering to a 5mm edge.
Besides the 5K display, the iMac looks just about the same. The edges still taper to an impossibly thin 5mm, with the guts of the iMac nestled in an elegantly curved bulge behind the display. You get Thunderbolt 2 ports (two of them) instead of the Thunderbolt 1 that appears on the rest of the iMac line. But the rest of the specs are pretty comparable. The display's the thing here--and after seeing it in person, I'd say that's enough.
The iMac with 5K Retina display is on sale immediately, starting at $2499. We'll have a full review as soon as we can.