Hands on with Apple's 'Move to iOS' Android app
Apple's first Android app makes it relatively painless to transfer you data to an iPhone or iPad.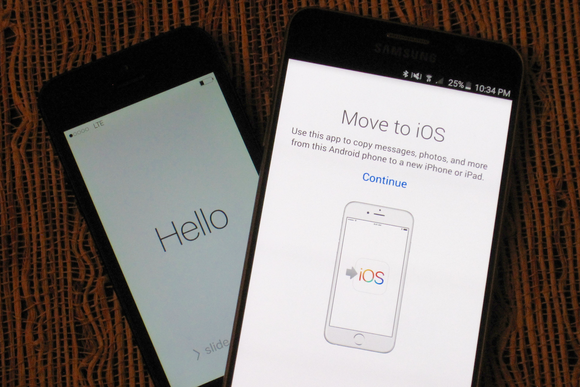 So you've finally decided to ditch the wild and unruly land of Android for the polished and proper iOS.
There's now an app for that. An Android app, from Apple. Move to iOS will transfer your Android device's contacts, Gmail, photos, and other data in a few relatively simple steps. It works on any Android device running 4.0 (Ice Cream Sandwich) or higher, and will move the data to any iPhone or iPad.
I tried it out on a Galaxy Note 5 and iPhone 5S. The process was rather easy, just as Apple promised. But there are a few details about exactly what and where Apple moves everything that you should know about.
Start fresh
A friendly PSA: the app only works if you're setting up your iPhone or iPad as a new device. If you were super eager to get started and already began customizing it, you're out of luck. You'll need to follow Apple's guide or chart your own path in order to move over the content.
The first few steps are the same as starting up any iPhone or iPad. You'll select a language, cellular or wireless network, then choose what apps and data to transfer. Once you land on the screen to transfer content, choose Move Data from Android and fire up the Move to iOS app on your Android device. Then, you'll be prompted to enter a nine-digit code in your iPhone.

Enter the secret code and your content will flow over from your Android device.
Depending on your Android device you may see, as I did, some type of message alerting you about the potential dangers of connecting to a third-party device. You can safely ignore that and proceed.
Pay attention to photos
The app will then ask if you want to move your camera roll, Google account data, and bookmarks from Chrome. It will then transfer these to the requisite Apple apps.
It actually brings a little more than what you're promised. Because Apple moves your Google account, you're set to go to use Apple's Mail, Calendar, and Contacts as the home for that content. You may, however, have to enter your password again. If you're using Google's two-step authentication you'll need to create a one-time password for each of these apps.
With photos, you'll need to browse through your new camera roll to see if everything came over. That's because Google Photos, Carousel from Dropbox, or other cloud-enabled photo apps will sometimes delete pictures from your device in order to save space. If you've relied on one of those apps on your Android phone, it's probably best to install and keep using that. Otherwise you'll need to download all the pictures out of that service to your Mac and then move them manually to Apple's Photos.