Hands-on with content blocking Safari extensions in iOS 9
iOS 9 brings Safari filters that can block ads, trackers, video, popups, and more. Here's how to choose a content blocker and set it up.
You can have any combination of content blockers enabled—or none—at any given time, so you don't have to choose the perfect one. I expect there will be many kinds with distinct purposes. You may easily have two or three, or ones you turn on and off depending on where you're browsing, your available bandwidth, and even the cost and amount of data transfers when you're roaming off network or internationally.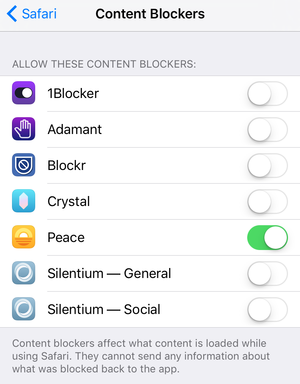 Content blocker are enabled via Settings > Safari > Content Blockers.
Once you've installed one or more content blockers, you need to configure them if they offer configuration options. Launch the app to fiddle with settings, if any are available. Some apps will have no settings, but simply incorporate a list that's updated remotely. Others will have huge numbers of options, down to letting you turn a filter on or off for particular sites.
Apple has a "firewall" of sorts in place: filters don't feed information back to apps. The filters are passed from an app to iOS, which compiles them and uses them with Safari. But Safari and iOS don't return that favor, as they don't tell apps what items were blocked. Some apps offer Share extensions that you can use within Safari that let you opt into passing some data back, like whitelisting a site you're on.
Finally, you have to enable filters individually for Safari. Tap Settings > Safari > Content Blockers, and you can flip a switch on or off for each installed extension. Whenever you do so, iOS quietly rebuilds the filters being applied—there's no extra step.
Use Content Blockers
Content blockers can take a lot of different paths:
Remotely updated list. Block only items in a list that's not configurable. That's the approach of the Crystal app (free at launch). The developer has created his own set of tracking, advertising network, and other sites, and updates the list via the app. Adamant has a big on/off button, but it's essentially the same.

Simplified. This category offers configuration options, but doesn't fully expose what's being blocked. The Purify app has an Ads and Tracking switch in its Preferences view, and additional lets you block images, scripts, and fonts—any or all of those. It also lets you whitelist sites. Blockr is similar, dividing categories into ads, media, and privacy, while Silentium has slightly different divisions but includes region-specific ad blocking. Blockr and Silentium can both also suppress those irritating European Union-required "cookie policy" messages.

Complex and highly configurable. Apps like 1Blocker let you drill way, way down, seeing not just every site or filter defined, but also the patterns used. It also lets you add rules for each kind of blocking: total, browser cookie, and page element (style sheet names, discussed next).