Hands-on with content blocking Safari extensions in iOS 9
iOS 9 brings Safari filters that can block ads, trackers, video, popups, and more. Here's how to choose a content blocker and set it up.
Another variable will be the source of block lists, whether it's for privacy, advertising network, anti-phishing protection, or bandwidth reduction. Crystal's developer adapted and reduced AdBlock Plus's EasyList. Marco Arment licensed Ghostery's database for his Peace blocker.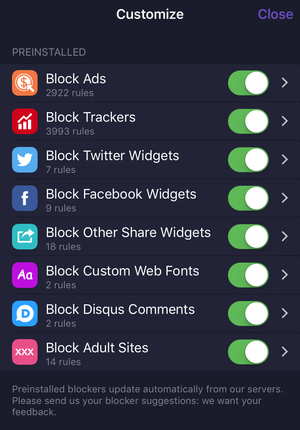 1Blocker exposes every site and pattern it uses to block.
Several apps I tested put items into the Share sheet for Safari. Peace, for instance, offers Open Unrestricted, Open in Peace, and Peace Settings, which correspond to bypassing filters, using a Safari View Controller to load pages bypassing Peace, and open Peace's settings. The Safari View Controller is new in iOS 9, and is a full-featured embedded Safari browser that app developers can use—and which includes content-blocking filters—as opposed to the previous web views that were subsets of Safari's abilities.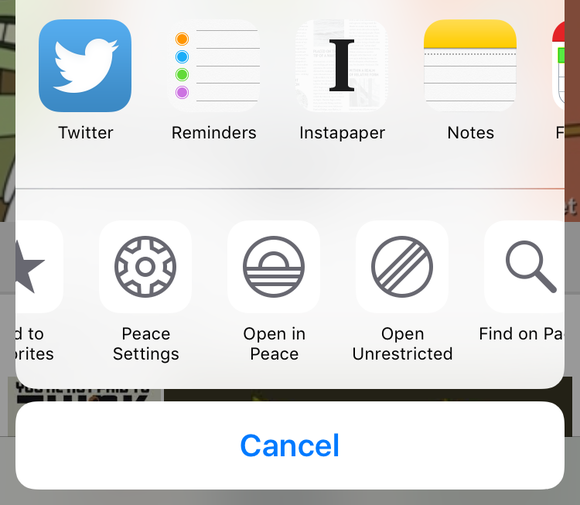 Content blockers can use Share extensions in Safari.
Apple also built in a way to bypass all content filters, but only for a single page. After a page loads, press and hold down the refresh button. A pop-up or popover appears with Request Desktop Site, a previously available option hidden in a different place in Safari, and Reload Without Content Blockers. That reload only bypass filters for the current page. The next tap loads using the filters.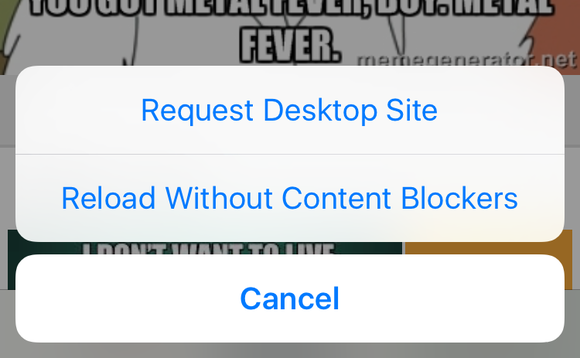 Any page can be reloaded in Safari without blockers by tapping and holding the reload button to get this set of menu items.
In testing, I looked at how rapidly pages were ready to use, rather than the complete load time. In many cases, because mobile versions of sites don't include auto-play video or are already optimized for smaller screens and less available bandwidth, the difference was minimal; in others, it could take twice as long, but still be just a matter of seconds.
For the most part, behind the scenes is where the real action is happening. Blocking known trackers prevents privacy leakages of your actions, including your path across different sites. Blocking advertising networks can dramatically reduce bandwith consumed. At many sites, people are discovering, video loads in the background even when it never plays nor slows down the main page display. Some testers have found a 10MB to 15MB page load drops to 2MB to 3MB when content blocking is enabled, even when the loaded page shows omits one or two missing ads.
Previous Page 1 2 3