Hands on with Laster SeeThru, a direct augmented-reality challenge to Google Glass
The idea of SeeThru is to wear the specs only for specific activities that can directly benefit from contextual information overlays.
Turn back your technology clock to April 5, 2012, the day Google introduced wearable tech to mainstream consumers, and permanently changed the trajectory of mobile hardware. Google, if you'll remember, released a provocative video for what was then called Project Glass. The video showed what it's like to wear smartglasses with full augmented reality overlays from morning until dusk.
It looked positively delightful. As well it should have. It turns out it was just a concept video.
Google's vision told us that all our science-fiction dreams were coming true, but as the company released more information about its smartglasses' true capabilities, we learned that Glass offers none of the full-screen information overlays portrayed in the original video. It was a blow for augmented-reality enthusiasts, but now a small French company called Laster Technologies is gearing up to launch SeeThru, a head-mounted wearable that attempts to make good on the original Google promise.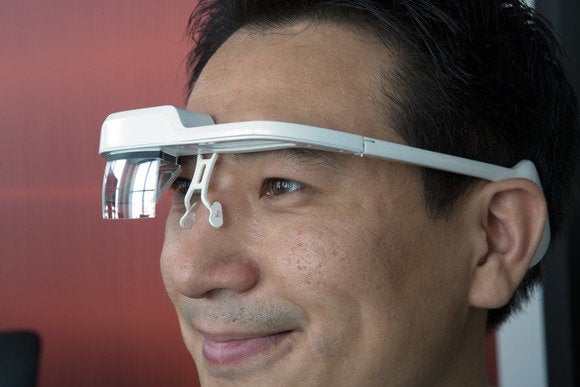 IMAGE: DAN MASAOKA. Laster CEO Zile Liu models the SeeThru.
"With augmented reality, the Internet comes to the real world," Laster CEO Zile Liu told TechHive. "We take the glasses, we see an object, and the object gives us information about what it is. This is the future. We have more efficient information, directly in our field of view."
Sure, but does it work? I tested a rough prototype of the SeeThru smartglasses, which are currently being crowd-funded in a Kickstarter campaign that intends to ship models in June for $400 a pop. Without a doubt, the SeeThru glasses do things that Google's glasses cannot. But whether humankind is ready for Laster's vision is a different matter entirely.
How much augmented reality is too much?
The SeeThru offer a 800x600 display with a 25 degree diagonal field of view—that's about twice the display window of Google Glass. The idea is to wear the specs only for specific activities that can directly benefit from contextual information overlays. So, for example, you could wear them while sightseeing in a foreign city to see factoids about historical landmarks: Simply glance at la Colonne de Juillet, and you'll see an overlay telling you when the column was built, and how far away it is from your current location.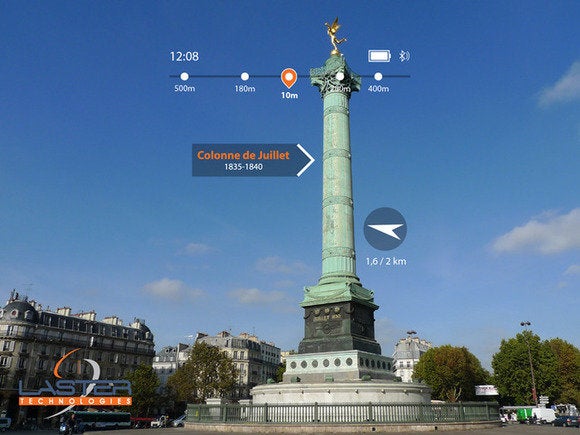 IMAGE: LASTER TECHNOLOGIES. Laster's mock-up of a sight-seeing app looks inviting, but our demo with a rough prototype didn't reveal such engaging visuals.
Laster also plans to make the SeeThru sturdy enough for more extreme pastimes, providing users with head-up display data while they skateboard, hang glide, sail the seas, and fly airplanes. Liu wasn't able to show me any of these applications in action, but says they'll be ready by the end of the year. During my demo, I only played with two apps—a rudimentary game and a barebones GPS interface—but even my limited time with SeeThru was enough to provoke a nagging question: Do we really want this much augmented reality content directly in our lines of sight?