Hands on with Laster SeeThru, a direct augmented-reality challenge to Google Glass
The idea of SeeThru is to wear the specs only for specific activities that can directly benefit from contextual information overlays.
Consider: The Google Glass display sits on the far upper-right periphery of the user's vision. For me, that display location creates eyestrain, especially when I focus on Google's screen for extended periods, or have to switch back and forth between normal vision and Google vision a number of times in quick succession. But with the SeeThru glasses, digital content appears squarely in the middle of your field-of-vision.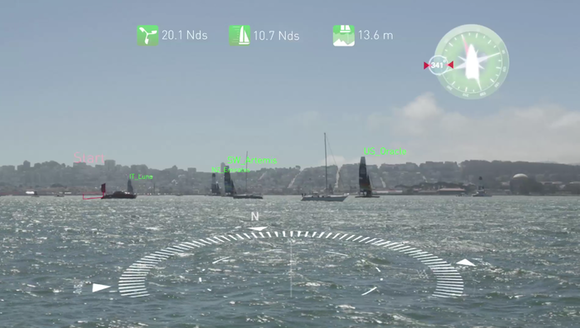 IMAGE: LASTER TECHNOLOGIES. The sailing app is due by the end of 2014. Will it look this stunning when it's released?
This approach didn't tax my eye muscles the way Google Glass does, but I did find the experience disorienting. I'm just not sure that I want to walk the streets of Paris—or, yikes, fly a hang glider—with a bunch of digital content dominating so much of what I see. And even if the augmented reality overlays don't pose a distraction hazard, I have to imagine they'll still require a lengthy orientation process before they begin to feel natural.
Liu concedes that augmented reality can't be a 24-7 experience. "People aren't ready to wear augmented reality glasses every hour of every day. It takes time to get used to these kinds of glasses," he says. "But in some situations, like sports, when you're biking or skateboarding, you can wear these for a new experience."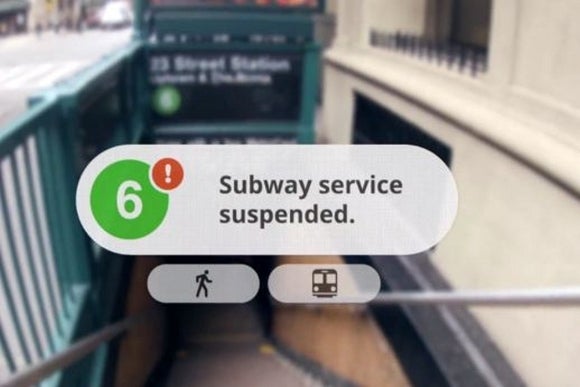 IMAGE: GOOGLE. Let's not forget that Google's Project Glass video made augmented reality look marvelous-but features like what we see here aren't available in the current iteration of Google Glass.
You can check out the video at the top of this article to get an idea of what the SeeThru overlays look like in person. What you see in the video what shot directly through the glasses with a GoPro camera. We demoed a rough, wired prototype of the glasses with an OLED display. Liu says the final version will be completely wireless and come with an LCOS display that's three times brighter.
Brighter overlays will be imperative, especially if the SeeThru glasses are to fulfill the promise of the screenshots on Laster's Kickstarter page (and shown here). The mock-ups show bright, bold augmented-reality overlays with text that's large enough to comfortably read, but the GPS app that I tested during my demo was difficult to visually resolve. Let's hope Laster fixes this in its final apps, because if content is going to occupy dead-center in your line of sight, you won't want to wrestle with what that teeny-tiny text actually means.
All the sensors without the expensive processing
Just like Google Glass, the SeeThru are aesthetically challenged. You can't wear these things without feeling like a complete tool, but at least if you're wearing them for very specific and extreme applications, the world's fashion critics might give you a pass. (Sightseers in foreign lands would be advised to travel with other smartglass owners, because, you know, there's safety in numbers and you don't want this to happen.)