Hands on with Laster SeeThru, a direct augmented-reality challenge to Google Glass
The idea of SeeThru is to wear the specs only for specific activities that can directly benefit from contextual information overlays.
IMAGE: DAN MASAOKA. No, these aren't the smartglasses you'll wear to your next job interview or blind date.
The prototype I demoed wasn't particularly heavy, and Liu says the final version will be even lighter at around 2 ounces. Unlike Glass, the SeeThru specs don't include a camera. This helps reduce costs, and eliminates challenges from privacy advocates. Nor do the SeeThru include a CPU, memory or onboard storage. The idea is to connect to your smartphone over Bluetooth, and rely on the handset for all the heavy lifting. As Liu says, "Why are we asking people to pay twice for CPUs and memory?"
Accurately tracking head movement is key to SeeThru's system, so the apparatus is packed with sensors that help make sure all those contextual overlays map perfectly over what you actually see. Three accelerometers, three gyroscopes and three compasses are embedded in the frames, and the built-in battery is rated to last between 6 and 8 hours of use. You can navigate the UI with voice control (Laster uses Google's voice-recognition engine), and there are also a pair of buttons for simple menu navigation.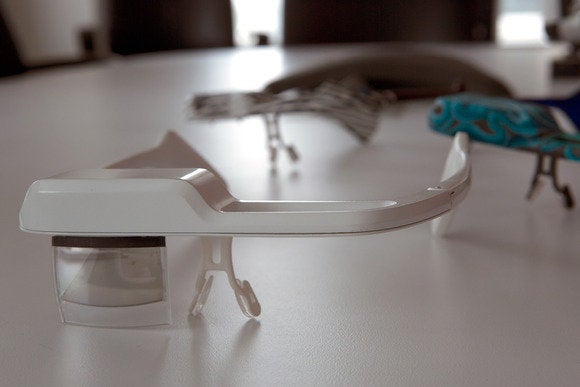 IMAGE: DAN MASAOKA. SeeThru's display is a main selling point. With a 25-degree diaginal field of view, it places content large and in charge in the middle of your sight line.
Assuming Laster reaches its Kickstarter goal, the SeeThru will ship to backers in June with two apps: AR GPS will provide basic mapping and directions, while AR Navigation will add landmark overlays for sightseers. Liu says the apps will pull their data from Google Maps and Wikitude, an existing augmented reality data platform.
Will Liu and Laster beat Google to market? We'll see—but Google maintains that the consumer release of Glass is still on track for a "wider consumer launch later in 2014." But perhaps Google really isn't Laster's main competitor. An Italian company called GlassUp is also going the pure augmented-reality route, and Epson is prepping the second generation of its augmented-reality Moverio glasses. And of course there's Meta, which is throwing the whole kitchen sink at augmented-reality glasses.
As the year takes shape, prepare yourself for a face-off between opposing smartglass philosophies, with augmented-reality advocates on one side, and Google on the other. Google Glass doesn't have those oh-so-intriguing contextual overlays—yet—but it does enjoy the power of Google Now, all of Google's mature platform services, and the collective alpha-testing intelligence of legions of Glass Explorers.
The battle lines are drawn. And of course there's always a third possibility: It might turn out that neither smartglasses approach is consumer-friendly, and all would-be competitors will stand down in defeat.
Previous Page 1 2 3