Hands-on with Smart's Kapp IQ: This digital whiteboard keeps it super simple
What's makes a whiteboard smart, you may wonder? That would be two pens, a 4K screen, and the ability for anyone in or outside the room to collaborate.
The essence of a whiteboard is that of a piece of paper and a pen, blown up and hung on a wall to optimize sharing. The Smart Technologies Kapp IQ digital whiteboard doesn't go much beyond that, with one major exception: Anyone can write on it, without having to get up from their chair.
Like your typical office or classroom whiteboard, the Kapp IQ allows you to draw on it—but what sets it apart from your average whiteboard is that you can then save a snapshot of what you drew on it for further review, without just taking a photo of the board with your smartphone.
Teachers, who use a related Smart whiteboard designed for education, may sign up for hours of instruction on how to use it. But Smart has found that if enterprise users can't grok how to use it in five minutes, they give up.
"The question is, how could we make it massively simple?" said Warren Barkley, Smart's chief technical officer.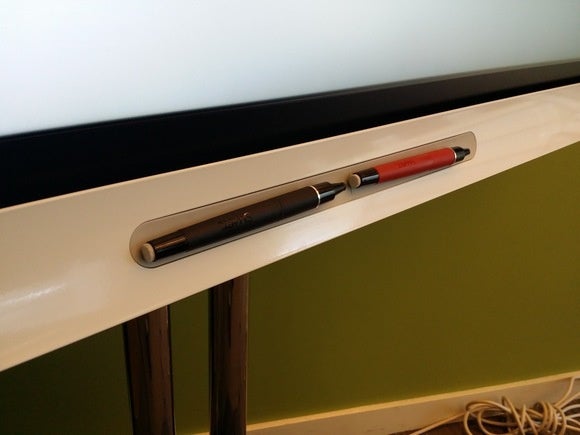 The Kapp IQ has a red pen, and a black pen. It's about as basic as you can get. Credit: Mark Hachman
Keeping it simple
And simple it is. I spent some hands-on time with a 55-inch enterprise Kapp IQ, which measures 33.675-by-50.75-by-4.75 inches, weighs 107 pounds, and retails for $4000. The enterprise version of the Kapp IQ is also available in a 65-inch model for $5000, and a 75-inch and 84-inch model are both in the works. All of the models will be based upon 4K panel technology, Barkley said. In whiteboard mode, the resolution is 1920-by-1080; otherwise, it's a 3840-by-2160 display.
Attached to the panel are two digital pens—one black, one white. You write with them. You erase small areas with a finger (or the back of the pen). Larger areas are erased with the swipe of a palm. And that's about it. If you want to move text from one area of the screen to the other, you erase and write it over. If you want to change the color of the ink, though, you're out of luck. (According to Barkley, customers ask for those options, and then never use them.)
The most impressive thing about the Kapp IQ is how it allows pretty much anyone in the room (or remotely connected) to see what's being written on the screen. More importantly, anyone can interact with it. If you have an NFC-enabled iOS or Android device, you can take a picture of the whiteboard's QR glyph at the lower left to trigger a Bluetooth connection, which connects the whiteboard to the mobile device.
Once connected, each user can draw on his or her mobile device, and it will instantly be displayed on the Kapp IQ's screen. Conversely, any drawings made by the presenter on the Kapp IQ are pushed to each connected mobile device in real time. The presenter and participants can click a camera button to save a snapshot of what's on the board, which then gets stored on each participant's mobile device.