Hands On with Windows 8.1: Microsoft's 'do-over' OS is loaded with features
If you already think Windows 8 is a flawed OS, Microsoft's new 8.1 update won't change your mind. But I've been digging into a preview release of the new system since Tuesday afternoon, and it's clear that Microsoft's course-correction efforts have paid off in loads of convenient new features.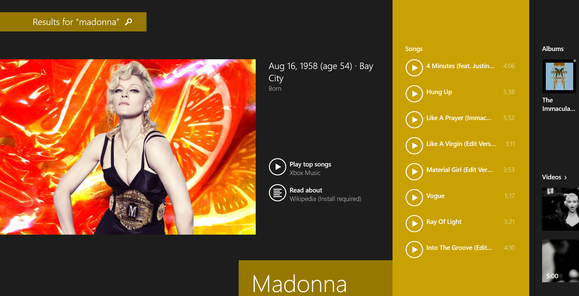 Microsoft has also significantly improved its search capabilities. Start typing, and a search window opens to the right, as it did in Windows 8. But the new Search capability searches the Web, your PC and SkyDrive, among other locations. Search for "Madonna," and up pops a lovely, enormous "hero" page with the singer's biographical information and discography. (The Surface that Microsoft gave me linked the discography to Xbox Music, so I quickly switched to BB King for the rest of the night.) The amount of possible results could grow enormous, but Microsoft does a fine job of managing the output. Sadly, mail can't be searched--yet.
Xbox Music provides a free "radio station" of a particular artist or genre, no subscription needed. Microsoft executives said that it would auto-import playlists on a web page, such as the lineup of artists at a music festival, later this year.
A whole lot of Windows 8.1 apps
From a macroscopic level, Microsoft has also added flexibility to its Modern apps, adding the capability to "snap" up to four apps on a standard widescreen monitor. (Adding another monitor allows another four.) Only two windows--the standard for Windows 8--can be snapped on a Surface, however, due to scaling issues. I wasn't able to test the "four-up" feature on a full-sized monitor, as I lacked a mini-DVI adapter for the Surface review unit.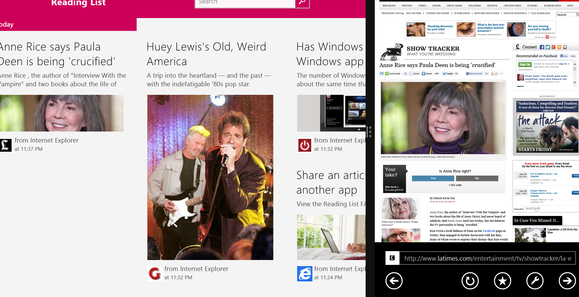 On a more microscopic level, a number of apps have either been rewritten or totally added for the Windows 8.1 release. Among these is Reading List--sort of a Microsoft-branded Instapaper. If you open up a web page, then bring up the "Share" charm, you can save whatever you're reading for later. It works as you might expect, but with some limitations. First, you need to remember to click the little "air mail" icon in the upper right of the Reading List tab. Second, it only works with the Modern version of Internet Explorer, rather than the desktop version. Stories then open in IE for later reading.
One of the more significant additions is Internet Explorer 11. It now includes side-by-side browsing and syncing of favorites, tabs, and settings across all Windows 8.1 devices. Microsoft also says it loads pages faster. We weren't really able to test all these capabilities (we only had one Windows 8.1 device, for example), but the browser seemed to do the job just fine. Internet Explorer 11 can also prevent extensions from launching until it has a chance to hand of the code to an anti-malware program for scanning.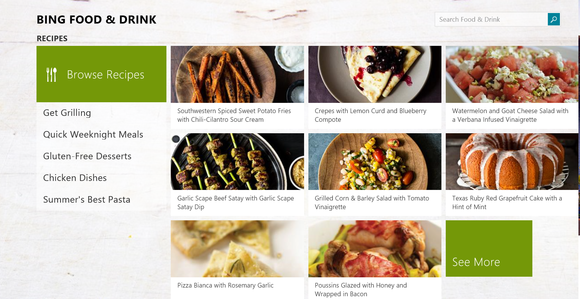 Previous Page 1 2 3 4 5 6 Next Page