Hands On with Windows 8.1: Microsoft's 'do-over' OS is loaded with features
If you already think Windows 8 is a flawed OS, Microsoft's new 8.1 update won't change your mind. But I've been digging into a preview release of the new system since Tuesday afternoon, and it's clear that Microsoft's course-correction efforts have paid off in loads of convenient new features.
Food & Drink is a new built-in app that includes a meal planner, a shopping list tool, and a searchable database of recipes that can be augmented with content you find online. The list of recipes isn't very remarkable, but it includes a nifty trick: You can enable a "hands-free" mode, and flip through pages just by gesturing above your device. The idea is to avoid gumming up your computer or tablet with your chicken-spattered paws, but you'll still need several clicks to enable hands-free mode, and the Surface's webcam practically required my hand to cover its lens.
Health Tracker is essentially Food & Drink for exercise. You can check out a range of exercises; monitor nutrition, diet, calories, blood pressure, and other health attributes; and examine an encyclopedia of drugs and health conditions. It's all laid out well, and can sync with Microsoft's HealthVault online record storage.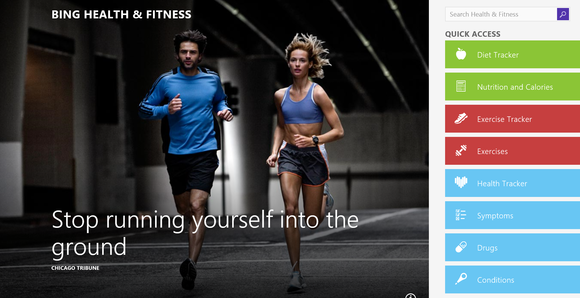 Microsoft also promised that a new version of Skype will alert users to incoming calls via a popup message on the lock screen, and then allow you to begin talking immediately. I created a test account on a nearby Windows 8 machine, then installed Skype on the Surface and called myself. I was able to see the alert, but I had to log in as normal to begin talking. Clicking on the alert didn't work.
SkyDrive is also supposed to gain photo editing capabilities, allowing you to simply swipe your screen for a range of photo filters and editing features. For some reason, this didn't work for me, and the seemingly related Photos app didn't have this capability either.
Mail, another app that Microsoft's Harris described as updated, also seemed to be exactly the same in the Windows 8.1 build loaded into my Surface Pro loaner unit. Nonetheless, when all is said and done, Mail's inbox will allow you to flag and sort messages by sender, and social updates from Twitter and Facebook will be able to be separated into their own folders, Harris promised.
In addition, Windows 8.1 boasts a new Voice Recorder app, a new Alarms app, and a spiffy new Calculator app. (Note that there are both desktop and Modern versions of Calculator, if you want to test one against the other.) Microsoft promised that Sports, News, Weather, Finance, and Travel have also been updated for Windows 8.1, but I didn't have time to dig into all the apps before posting this article.
Windows Store gets a facelift
One subtle change in Windows 8.1 is the elimination of the little number at the bottom of the Windows Store icon. That's because apps now auto-update in the background.
Previous Page 1 2 3 4 5 6 Next Page