Hands On with Windows 8.1: Microsoft's 'do-over' OS is loaded with features
If you already think Windows 8 is a flawed OS, Microsoft's new 8.1 update won't change your mind. But I've been digging into a preview release of the new system since Tuesday afternoon, and it's clear that Microsoft's course-correction efforts have paid off in loads of convenient new features.
This sounds good on paper, but comes with a caveat: According to Microsoft's Ted Dworkin, partner director of program management for the Windows Store, apps won't necessarily alert you if they're updated and their access policies change. This means that if an app wants more data, Microsoft will quietly grant permission unless certain undisclosed permissions are asked for, triggering a user notification.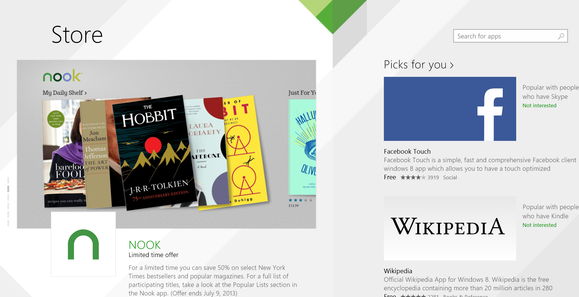 Within the Windows Store app itself, look for the first "page" of tiles to go away. Instead, Microsoft is curating apps, pushing forward a single software title that it thinks most users will like. There's also a special selection culled for individual users, based on their preferences.
Microsoft will also now allow in-app purchases for special costumes and other consumables in games, and will offer stored-value options, allowing you to carry a balance of dollars, yen, euro, or other currency from which to buy apps, movies, music, and so on. In Windows 8.1, you will also be able to install apps on an unlimited number of Windows devices, but Microsoft will monitor user activity to make sure apps aren't copied across, say, an entire dormitory's worth of hardware.
Windows 8.1 for businesses
If you read our earlier report on Windows 8.1 for businesses, you'll get a good grasp of what Microsoft intends for the enterprise features of the new OS.
Using a featured called Assigned Access, a Windows 8.1 PC can be "locked down" to boot to a single app. For example, you could lock down PCs to a dedicated test-taking app, preventing students from launching Internet Explorer during exams.
The Start Screen configuration can be exported to an XML file, and enforced as a policy. And Windows 8.1 has been designed with Mobile Device Management in mind: Users get to bring their own Windows 8.1 devices into the workplace, but businesses can put their own apps and documents on the user hardware--and revoke access to this material as they wish.
Other new capabilities more directly benefit employees: Users can set up their PCs as Wi-Fi hotspots, sharing a paid-for work connection, and new "virtual smart cards" can be used as tokens to launch VPNs. Third-party VPNs now work with Windows RT as well, Dustin Ingalls, a group program manager at Microsoft, said.
Prettier but not perfect
So what's the bottom line? Right now, Windows 8.1 offers somewhat moderate improvements to a controversial design, together with a few bugs. And, personally, I would have appreciated better organization of the new personalization options.
For now, my thesis remains unchanged: Windows 8 bolts a tablet interface on top of a PC interface, and most people who approach it from the PC perspective are in for a shock. When it comes to user interface design, familiarity breeds not contempt, but rather content--content, happy users who would rather see their beloved interface polished up, but not overhauled entirely. Over time, however, Microsoft will benefit from user familiarity, as people learn how to navigate Windows 8 (and all its updates) and the Modern interface becomes the new normal.
Previous Page 1 2 3 4 5 6 Next Page