Hospital tests lag time for robotic surgery 1,200 miles away from doctor
Doctors may someday be able to operate using robots on patients on the other side of the globe, or even in space.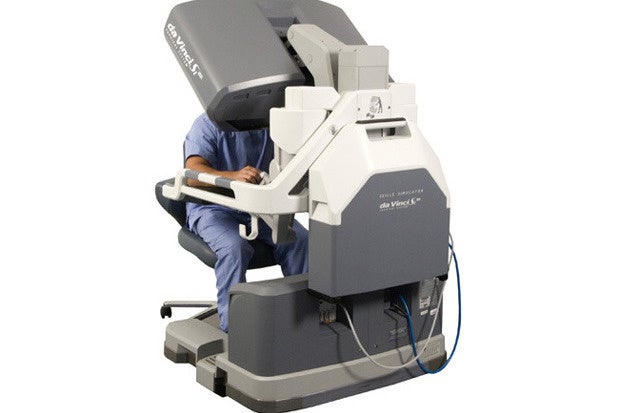 A physician uses a da Vinci robotic surgical system to perform laparoscopic surgery.Credit: Mimic Simulation
A Florida hospital has successfully tested lag time created by the Internet for a simulated robotic surgery in Ft. Worth, Texas, more than 1,200 miles away from the surgeon who was at the virtual controls.
Next, the hospital plans to test lag times for remote robotic or "telesurgery" in Denver and then Loma Linda, Calif.
The experiment wasn't performed on live patients, but rather on virtual patients using a machine called "Mimic Simulator." The training hospital was taking a first step in testing Internet lag time between when a surgeon moves a remote robotic instrument and when it reacts.
Physicians watching the virtual telesurgery using laparoscopic instruments on video couldn't even detect a lag time, according to Smith.
The Florida Hospital's simulator mimics procedures performed by a da Vinci robotic surgical system, the most common equipment in use today; it's used for hundreds of thousands of surgeries every year around the world.
Today, da Vinci surgical robots allow physicians to perform surgeries yards away from patients, sometimes even behind glass in spaces adjoining operating rooms.
"What we're researching is when can we take the next step -- when can a surgeon go from being 20 or 30 feet away from a patient... to being connected by the Internet and be 20 or 30 miles away or 12,000 or 13,000 miles away?" Smith said.
Ultimately, the hospital hopes to enable surgeries for remote patients here and abroad who wouldn't otherwise have access to the world's top surgeons.
The Florida Hospital's experiment tested two things: As the distance from the robot increases, how does that effect lag time, and if there's lag time, how much of it can the attending surgeon tolerate?
The problem has less to do with the speed of light at which electrons travel via fiber optics and more to do with Internet provider processing times. A single movement of a robotic arm by a surgeon in a remote location requires bidirectional data-packet transfer: One data packet to control the robot's movement and the other to view the result in real time on a video display.
The Mimic Simulator was able to first artificially dial up lag times, starting with 200 milliseconds (100 milliseconds is one-tenth of a second) all the way up to 600 milliseconds.
At 200 milliseconds, surgeons could not detect a lag time. From 300 to 500 milliseconds, some surgeons could detect lag time, but they were able to compensate for it by pausing their movement. But at 600 milliseconds, most surgeons became insecure about their ability to perform a procedure, Smith said.