How Obama's edict will resurrect smart guns
The federal government could become the biggest buyer of smart gun technology.

Armatix last year attempted to introduce a .22 caliber semi-automatic pistol that prevented anyone but the wearer of a special watch with an RFID chip from firing it. Gun advocates protested gun stores attempting to sell it. Credit: Armatix
For two decades, smart gun technology has advanced in fits and starts as wary investors kept purse strings tight and gun rights proponents at times fought its uptake.
President Barack Obama's impassioned speech this week on gun control, however, could give the smart gun industry a boost; he called for smart gun R&D funding and opened up the U.S. government as a potential market for its adoption.
Obama directed the Defense Department, the Justice Department and the Department of Homeland Security to conduct or sponsor research into gun safety technology.
He also instructed the departments to "review the availability of smart gun technology on a regular basis, and to explore potential ways to further its use and development to more broadly improve gun safety."
Smart gun proponents who've been developing the technology or lobbied the federal government in the past for funding applauded the move, saying it's the only way to move the technology to market.
"We believe this is a game changer when it comes to the development of this technology," said Joel Moshbacher, a Rabbi from Mahwah, N.J. and national co-chair of the Do Not Stand Idly By, a gun safety advocacy group.
The group has garnered support from 82 mayors, police chiefs, sheriffs and governors around the U.S. who've expressed interest in smart gun technology.
Do Not Stand Idly By has worked with the Metro Industrial Areas Foundation, a group made up of faith leaders and citizens, to push Obama to earmark at least $20 million for developing smart guns.
Donald Sebastian, senior vice president for research and development at the New Jersey Institute of Technology (NJIT), which developed a smart gun, said investors have been shy about backing the technology because of market resistance.
NJIT developed a smart gun that recognizes each gun owner's unique grip, and it was on its second generation of a prototype when a four-year grant ran out in 2012. Since then, the project has been mothballed.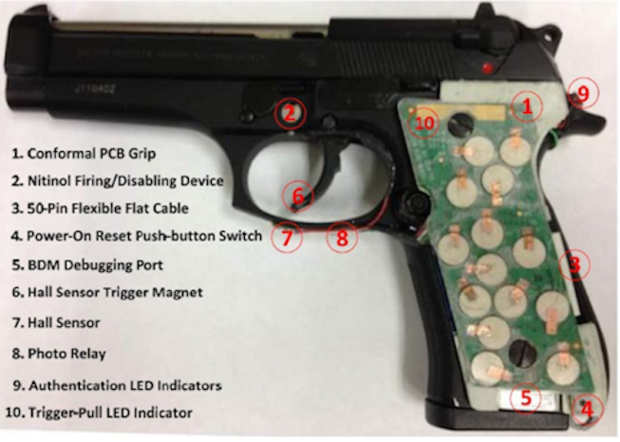 NJIT
A 9mm Beretta semi-automatic pistol was used as the initial prototype for the New Jersey Institute of Technology's smart gun, which uses sensors to detect each gun owner's unique grip.
"It really is going to take federal dollars to move these things from conversation pieces and one-of-a-kind demonstrations to things that have been field tested and proven worthy of service," Sebastian said. "Once you do that, it takes the fear, uncertainty and doubt out of the conversation."