How to liquid-cool your graphics card in 20 minutes
Closed-loop liquid cooling can be yours for cheap, but read this first to make sure you and your GPU are up for it.
You may not know it, but the hottest component in your PC isn't your CPU, it's actually your video card.
Today's high-performance GPUs can put out two to three times the heat of a high-end CPU. That typically translates into enough fan noise to drive you batty while gaming.
There's an easy way to solve that problem though: water. OK, it's technically "liquid," because it's typically an anti-freeze-like substance, but in the parlance of our times, it's water cooling. Enthusiasts have long resorted to custom cooling setups to keep video card noise to minimum.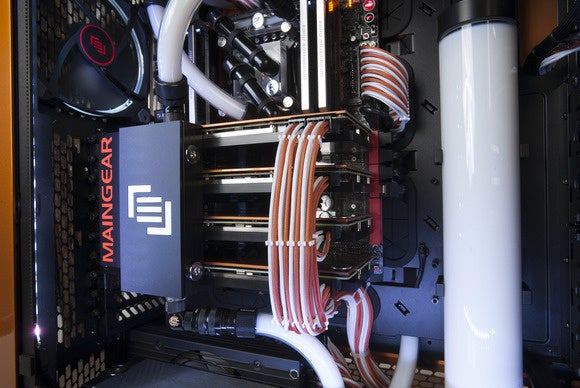 This Maingear Epic Force uses liquid cooling to keep its four GPU's quiet and cool. That cooling system is also easily a grand in parts. Credit: Rob Schultz
The problem with custom liquid cooling is it's neither easy nor cheap. An EK-brand GPU water block can easily cost more than a hundred dollars—and that doesn't include the hosing, pump, radiator or reservoir that you'll also need. In the end, custom liquid-cooling a video card could cost as much or more than the video card itself, depending on your options.
You don't have to be Mario
The good news is there's an easier option—and it doesn't take a Mario-level of plumbing skill, either. If you want to water-cool your two-year-old GPU because you've finally worked up the courage to risk destroying it, you can do it quickly and fairly cheaply.
Rather than full-on custom liquid cooling, you can use off-the-shelf, closed-loop liquid coolers for the job. For example, NZXT offers its G10 universal bracket adapter that you use with its closed loop, and Arctic offers an entire kit for cooling GPUs.
Like NZXT, Corsair offers a bracket to fits its coolers. For today's how-to, I'll be using Corsair's Hydro Series HG10 A1. It's a $35 metal bracket that you could mate with many popular Corsair coolers.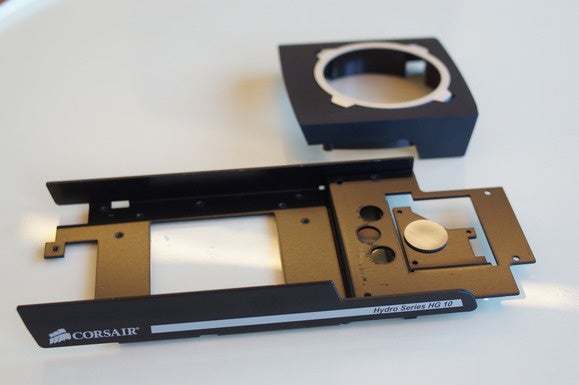 The Corsair HG10 A1 is a basic metal braket with a fan shroud. You're expected to reuse the fan from your original cooler.Credit: Gordon Mah Ung
Reuse
Corsair's philosophy with the HG10 A1 bracket is apparently rooted in green. The idea is that once you've upgraded to a newer cooler for your CPU (Corsair brand, natch), you just reuse the old one with the HG10 A1 on your GPU. Whereas some designs try to be universal, Corsair's HG10 A1 is actually specific to a few popular GPUs that follow the factory reference design. Highly modified GPUs from Asus, Gigabyte, MSI and the like won't work, as they typically use custom designs.