How to liquid-cool your graphics card in 20 minutes
Closed-loop liquid cooling can be yours for cheap, but read this first to make sure you and your GPU are up for it.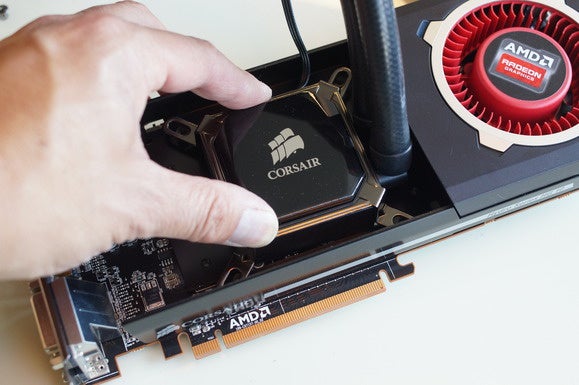 The last step is to install the cold plate or water block. Credit: Gordon Mah Ung
How does it perform?
Once I had the card together, I threw it into a system to test. In this case, it was a Core i7-6700K Skylake rig with 16GB of DDR4/2666 and a Kingston HyperX Predator SSD running Windows 8.1.
I decided to run the card using a worst-case scenario, so I used the infamous Furmark stress test. GPU companies have described Furmark as a "power virus." They don't like it.
For comparison, I first ran the Radeon R9 290 with its stock cooler and FurMark set to 8x AA. With those settings, I saw the card quickly hit 94 degrees Celsius with its stock cooler. AMD took a lot of flack over the noise of the Radeon R9 290 and 290X cards when first released. I'm not sure if the drivers or the BIOS on this card reflects those complaints, but rather than let the card get insanely loud by cranking up the fan speed, the 290 card I had throttled performance instead. The card's stock speed is 947MHz, but under full load, it slowly fell back to 916MHz. I could actually get the card running at its stock 947MHz clocks, but only with the fan set to far higher speeds.
The 290 and 290X fans, for the record, can get so loud and shrill, you won't want to be in the same room with the system. I know from first-hand experience with a multi-GPU Bitcoin mining machine.
So how about the HG10 A1 and the H60? Pretty damned good. While I could easily hit 94 degrees Celsius and see the clock speeds start to throttle back with the air cooler, the liquid cooler held at 56 degrees Celsius under the same Furmark load. One thing I did experience was a black screen when I let the GPU control the fan speed under load. Because the card thinks it's running a nice chilly 56 degrees all the time, it never increases the fan speed—which, I believe, was the cause of my crash. You can manually crank up the fan speeds using MSI's Afterburner utility.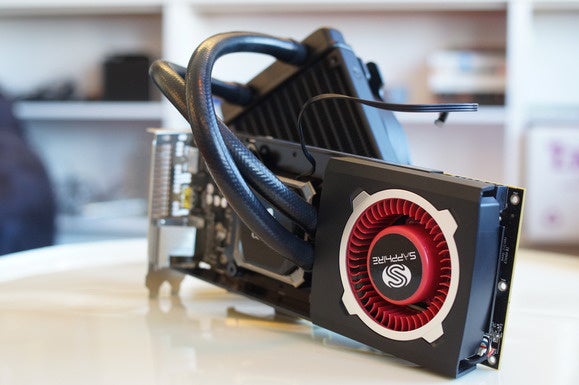 Water cooling can tame even the Radeon R9 290 card. Credit: Gordon Mah Ung
Conclusion
One issue I didn't anticipate was just where that radiator would be mounted. The only choice for most will be on the bottom of the case or the case door. Trying to route it up over the GPU wasn't feasible with the H60's hose length. In a lot of cases, such a setup just won't work. So plan accordingly, as it will be a limiting factor.
Previous Page 1 2 3 4 5 Next Page