How to make Ubuntu Linux look like Windows 7
Are you ready to make the jump to Linux, but scared of learning a whole new interface? Here's how to make unfamiliar Ubuntu look and feel like the familiar Windows 7 desktop.
You can also change the applications menu's graphic and make it use a Windows 7-style start orb. First, find a Windows 7 start orb image--you can find several on Google Images, but make sure you get a transparent PNG image. Once you've found a good image, right-click the Applications menu button, select Properties, and use the Icon button to select your start orb.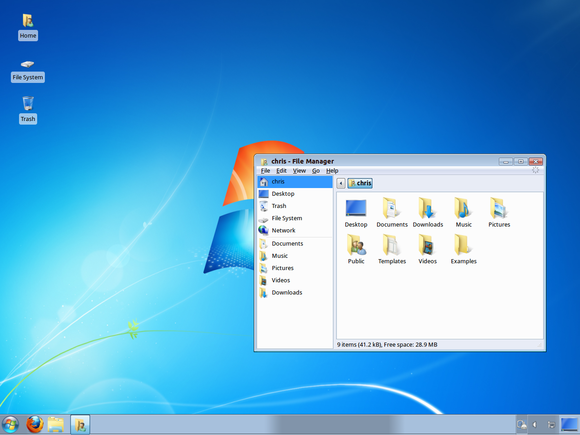 Phew, that took a lot of tweaking (and a lot of text)--but we now have a Windows 7-style desktop on Ubuntu. It lacks a Windows 7-style Start menu and taskbar, but Windows users that prefer the classic Start menu and taskbar behavior will find it immediately familiar.
Undoing your changes
Want to undo your changes? If you followed the first method, just run these commands. Remember to log out and log back in after running the commands to restore the global menu bar.
gsettings reset org.gnome.desktop.interface gtk-theme
gsettings reset org.gnome.desktop.wm.preferences theme
gsettings reset org.gnome.desktop.interface icon-theme
gsettings reset org.gnome.desktop.wm.preferences button-layout
gsettings reset org.gnome.desktop.background picture-uri
sudo apt-get install appmenu-gtk appmenu-gtk3 appmenu-qt indicator-appmenu
If you followed the second method, log out and select Ubuntu's default desktop environment from the login screen. You can toggle between the two whenever you like. If you'd like to uninstall Xfce, use this command:
sudo apt-get autoremove xubuntu-desktop
These processes are a good demonstration of just how configurable Linux is. You can rip out software from the default desktop, use all sorts of themes, install a completely different desktop environment, or even build your own desktop environment by cobbling together pieces from different desktop environments--that's what we did in the last section.
Still not sold on Linux? If you'd just like to use the Windows 8 desktop without all of the operating system's funky design and interface changes, check out our guide on banishing the Metro UI from Windows 8.
Previous Page 1 2 3 4