How wearables will shape the future of mobile payments
Three finance executives discuss the essential role wearable technology will play in the evolution of mobile payments.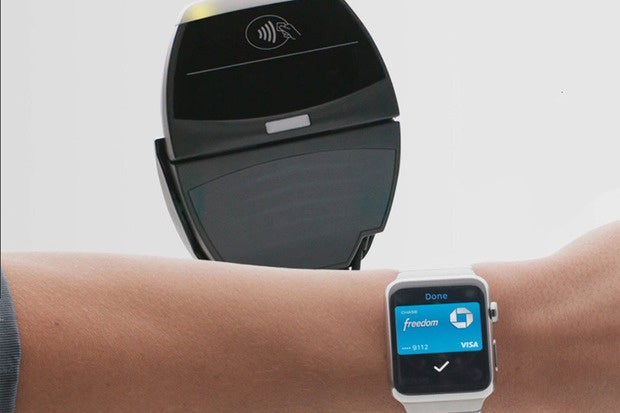 Last week, at the Wearable World Congress in San Francisco, executives from Capital One, MasterCard and PayPal participated in an animated discussion about the future of mobile payments and explained why wearable technology is an important part of their companies' game plans.
Speaking from a shadowy stage in the city's Palace of Fine Arts Theatre, just spitting distance from the Golden Gate Bridge and the Pacific Ocean, Stephane Wyper, MasterCard's vice president of startup engagement and acceleration, said MasterCard's is focused on leveraging the latest and greatest gadgets, including wearables, to create loyal customers.
"As we look at the future, consumers are clearly interacting with a whole host of new devices that extend beyond plastic or the devices in their pocket," Wyper said. The question for MasterCard is, "How do we enable all of those connected devices to be payment devices?"
Wearables improve, enhance mobile payment experience
The number of wearables in the market is proliferating, and Capital One thinks it can use them to draw and retain customers. Angie Moody, Capital One's vice president of new product innovation, says her company is looking to wearables to "reinvent the way consumers interact with money on a daily business."
Capital One wants to extend the payment experience to help its customer make more informed, responsible payment decisions, by using data collected by wearables, including location and behavioral information. Wearable technology presents a unique opportunity because of the types of data it collects, according to Moody. "Wearables offer new ways to learn who you are, when you are and where you are."
PayPal's Varun Krishna, senior director of its consumer wallet division, sees wearable computing as a significant opportunity for the company that will eventually "give rise to more connected, more personal experiences."
"Wearables provide connectivity at a point that mobile apps can't," Krishna says. "By nature, they're more connected to the user than a phone can be."
However, Krishna stressed that the mass adoption of wearables for mobile payments will hinge on the size of the "acceptance network," or the number of retailers and destinations that support a wide variety of digital payment options. PayPal is aggressively trying to develop and expand that acceptance network, according to Krishna.
Big data, analytics key to success of wearables for mobile payments
Advances in data analytics will also play a crucial role in the evolution of wearable-based, or wearable-assisted, mobile payments, because they'll help finance companies put consumer data to better use. "The amount of data that we have about how consumers spend money is astronomical compared to how we're actually using it," Krishna says.