HP EliteBook 840 G1 review: A gem of a business laptop
The HP EliteBook 840 G1 has down-to-business looks, a great design, robust performance, and all the correct options for a business laptop.
Sometimes it's clear from the very first look that a laptop's designers understand their market. The HP EliteBook 840 G1 is calmly handsome in a way that will appeal to business users. It's also rugged, fast, ergonomically sound, and a breeze to upgrade and repair. If you work in an office, you'll like it--unless you're an eraser-head fan.
The EliteBook 840 G1 is styled in silver and gray, with a matte top surface that looks nice when it's clean, but that readily shows fingerprints. Keep a wipe cloth handy if you care about such things. The chassis is magnesium and the keyboard is fabricated from aluminum, making the unit tougher than most and endowing it with a sturdy feel. HP says the laptop has passed a number of MIL-STD 810G tests, including drop, dust incursion, and vibration.
The 840 G1 is by far the easiest laptop to repair and upgrade that I've ever used. Flip the unit over, unlock the latch, slide the bottom service cover off, and you have direct access to everything: hard drive, memory, battery, Wi-Fi, RTC/CMOS battery, and the wireless WAN slot. IT types who spend a lot of time repairing laptops be warned--examining the 840 G1 might make you giddy.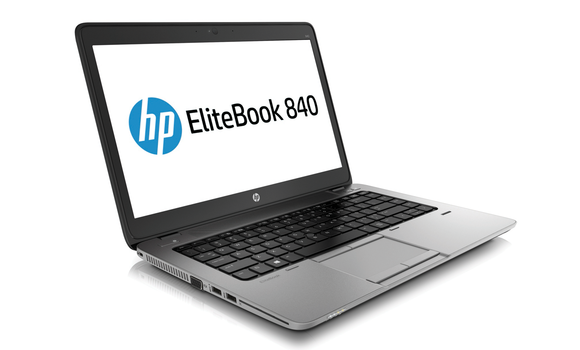 HP's EliteBook 840 G1 is supremely easy to service and upgrade.
The keyboard deck design is minimalist. Aside from the keyboard and touchpad, there's only a power button (in plain sight!) and Wi-Fi and audio on/off switches. Clean. Nice.
HP delivers non-touch 840 G1s with a matte display surrounded by a largish flat-black bezel, rather than the glare-prone, glossy setups that many consumer models employ. Matte doesn't look quite as nice, but it's a bit easier on the eye. You can order yours in either 1366 by 768 or 1600 by 900 flavors (we reviewed the former). A touchscreen is also available, although--like most--it's very reflective.
I was impressed with the 840 G1's keyboard. The short-throw keys provide merely decent tactile feedback when typed lightly, but scooted up against the magnesium chassis, you get a nice bounce and excellent aural feedback when you apply more force. The touchpad is silky and HP provides two sets of buttons, one above the touchpad for when you're typing, and one below for when you're using the pad for navigation.
As I mentioned earlier, this laptop's eraser-head track stick is its one truly sour ergonomic note. HP persists in rendering it from a slippery material that even with a pebbled and concave top allows your finger to slip off. It's an uneasy feeling and a brain-dead moment in an otherwise well thought-out laptop.