HP EliteBook 840 G1 review: A gem of a business laptop
The HP EliteBook 840 G1 has down-to-business looks, a great design, robust performance, and all the correct options for a business laptop.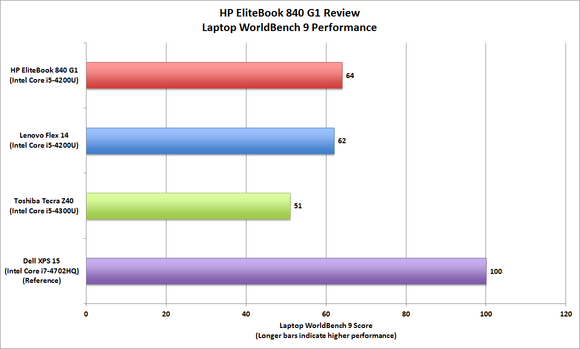 We've updated our benchmark suite and picked a new reference laptop. The EliteBook 840 G1's Laptop WorldBench 9 score of 64, which is right in line with our expectations. Click on graph to enlarge.
The 840 G1 has ports aplenty: Two USB 3.0 ports (one provides always-on charging), a legacy VGA port, and a smart card slot on the left side. A headset jack, two more USB 3.0 ports, a full-sized DisplayPort, a super-slim docking port, and a drop-jaw gigabit ethernet port on the right side. Drop-jaw means that the lower portion expands to accept an RJ-45 connector, then contracts to about the height of a USB port when you unplug the cable. The bottom has a port to connect with the auxiliary battery slice.
Our test unit, priced at $1064, sported an Intel Core i5-4200U CPU, 4GB of DDR3/1600 memory, and a 180GB Intel SSD (SSDSC2BF180A4H). It also has a 720p webcam bordered by dual-array microphones and Bluetooth 4.0 wireless connectivty. Wi-Fi was limited to 802.11 a/b/g/n, with 802.11ac available as an upgrade. You can also add features such as vPro support, TPM (Trusted Platform Module), biometrics, larger hard drives, and so on, which will boost that price tag.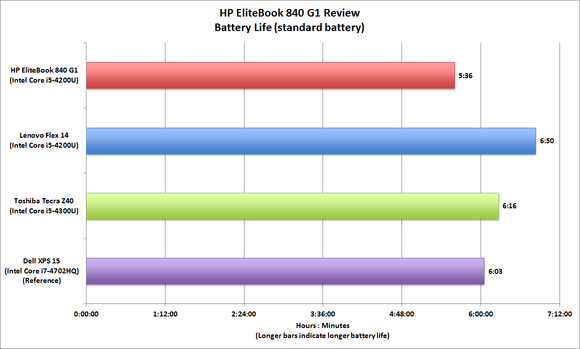 The EliteBook 840 G1 delivered a respectable 5 hours and 36 minutes of life using its standard battery.
The laptop garnered a laptop WorldBench 9 score of 64, which is right around where a Core i5 laptop with an SSD should sit. Note that WorldBench 9 scores will be significantly lower than those for WorldBench 8.1, because our new laptop baseline is a Dell XPS 15 with an Intel Core i7-4702HQ CPU, 16GB of DDR3/1600 memory, and a 500GB SSD.
The EliteBook 840 G1 weighs in at 3.48 pounds. An optional 5400 mAh battery slice adds another 1.35 pounds and a half-inch of thickness, but it more than doubles the laptop's usable life away from an electrical outlet from a respectable 5 hours 36 minutes to a whopping 12 hours 47 minutes.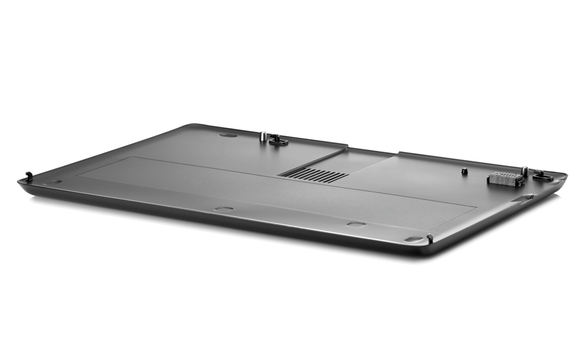 This optional battery fits to the EliteBook 840's bottom and more than doubles the time you can use it away from an AC outlet.
Given the lack of a discrete GPU, the 840 G1's mediocre gaming scores were expected. The Intel HD 4400 graphics doesn't cut it for most top-shelf games past 800 by 600 resolution, although it managed just over 30 frames per second on Grid 2 at 1024 by 768.