HP EliteBook 840 G1 review: A gem of a business laptop
The HP EliteBook 840 G1 has down-to-business looks, a great design, robust performance, and all the correct options for a business laptop.
Video at 1080p resolution played smoothly as you could wish, and the audio through the speakers was quite nice thanks to the DTS Studio Sound enhancement utility. At least when movies were playing. With the system sounds, there seemed to be a bit of distortion. Through headphones at normal volume levels, everything is sonically hunky-dory.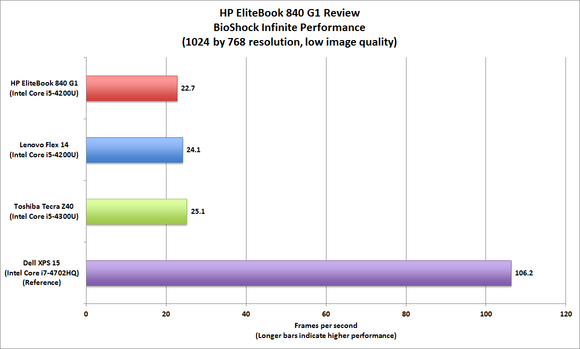 What a difference a discrete GPU makes: Integrated graphics are fine for most business apps, but they still suck when it comes to games.
Our Elitebook 840 G1 came with only a one-year warranty, but there are a variety of more reassuring plans available up to 5-years with free pickup for approximately $400.
HP touts its Sure Start self-healing BIOS, which is basically a backup of the BIOS that can be restored in if the BIOS is corrupted by malware. Motherboard vendors such as Gigabyte have been using a similar scheme for years. There's also a software component called Trust Circles which is secure group content sharing.
Approximately 18 months passed between the release of the 840 G1 and it's 8470 predecessor, which is a decent lifespan. HP promises to keep parts on hand for at least five years.
The 840 G1 has distinguished, get-down-to-business looks, a great design, robust performance and all the correct corporate options. My only caveat is that if an eraser-head is your preferred cursor-control tool, be sure you try before you buy.
Previous Page 1 2 3