HP Envy Rove: A movable (if underpowered) all-in-one PC
Home users who like the idea of being able to lug a computer to different rooms and want something bigger than a laptop will find the Envy Rove useful as long as heavy-duty computing isn't involved.

The HP Envy Rove's spring-loaded hinge lets you set it to almost any angle.
Is the HP Envy Rove a supersized tablet or a portable all-in-one desktop? You can make an argument for either case, but at the end of the day, the Rove's 12-pound-plus weight precludes serious consideration as a portable in the traditional sense of the word.
Rather, HP's designers view this Windows 8 Home--based system as an all-in-one desktop that users can haul around the house as needed--hence the name, Rove. Its sturdy hinged prop-up stand works as a handle. And because the Rove can operate for nearly 3 hours on internal battery power (one of its tabletlike features), you don't necessarily have to bring along its power cord. You can even lay the machine flat to use its 20-inch multitouch display as a gaming platform, something HP encourages by bundling several games that take advantage of multitouch support.
The Envy Rove isn't the first system we've seen that straddles the desktop-tablet divide. The Sony Tap 20, which we reviewed last year, boasts strikingly similar specs, starting with the 20-inch touchscreen display. And like the Tap 20, the Envy Rove is based on Intel's mobile technology, although HP opted for a less powerful CPU--the Core i3-4010u, which along with the Envy Rove's skimpy 4GB of RAM probably accounts for the machine's dismal performance on our benchmarks. Its WorldBench score of 78 is pretty poor for any system, but especially when compared against conventional desktops you might be considering. Even the Sony Tap 20 did a lot better (it earned a score of 95), thanks to an older but higher-end CPU and an additional 4GB of system RAM.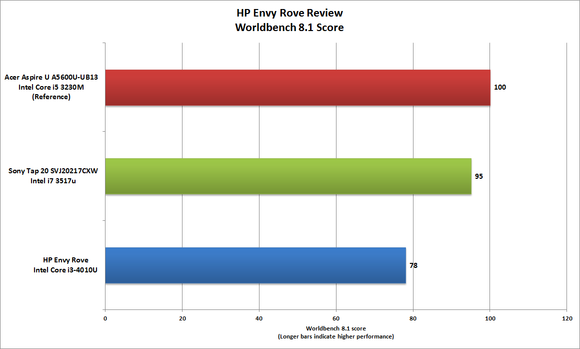 The HP Envy Rove's Intel Core i3 processor limits its performance.
On the other hand, you don't really need great number-crunching power in a general-purpose home computer, and the Envy Rove is perfectly up to the tasks it's more likely to face: managing email, checking Facebook, watching YouTube videos, and calling friends on Skype. True, the 1600-by-900 resolution doesn't look especially fine on the 20-inch screen, but its colors are crisp and bright, and the integrated 720p webcam produces acceptable if unremarkable video. Beats-branded audio from speakers embedded in the bottom of the display is also decent.
HP provides a wireless mouse and keyboard that exemplify the quality level you'd expect from a midrange notebook: They're certainly usable, but they have no particular design finesse. Still, I was happy not to have to deal with cables for these peripherals. I also commend HP for providing the latest in fast Wi-Fi (802.11ac, which is backward-compatible with both 2.4GHz and 5GHz legacy standards).