HP Envy Rove: A movable (if underpowered) all-in-one PC
Home users who like the idea of being able to lug a computer to different rooms and want something bigger than a laptop will find the Envy Rove useful as long as heavy-duty computing isn't involved.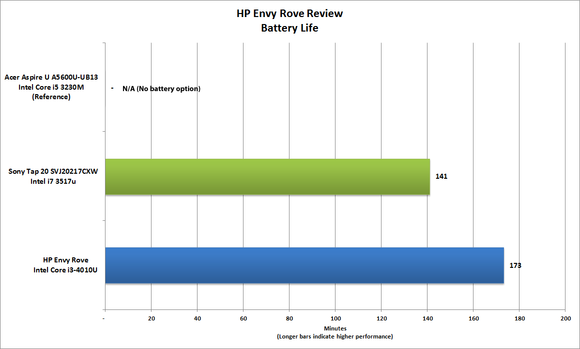 The Core i3 processor in the HP Envy Rove delivers better battery life than the Core i7 in Sony's Tap 20.
Connectivity options are basic: You get three USB 3.0 ports (two on the left side, one on the right), a headphone/mic jack and volume-control rocker on the right side, and an SD Card slot. If you want to plug in to a wired network, you must use a USB-to-ethernet dongle. You'll find no built-in optical drive, either. The system has a button for changing the display orientation, but setting up the Envy Rove in portrait mode would block some ports.
HP does give you plenty of storage space for the games and multimedia that the Envy Rove is clearly designed to accommodate: The system holds a 1TB hybrid drive (a small solid-state portion helps with speedy boot time).
The HP Envy Rove is neither outrageously expensive nor a fabulous deal: At this writing, it's listed at $980 with an instant $100 rebate. That's more than I'd like to pay for a system with mediocre performance numbers, but the Envy Rove isn't about performance. It's about an unusual design for households in search of a PC that's larger than a laptop but not quite as heavy as a conventional desktop.