HP Pro Slate 12 tablet first with Gorilla Glass 4, Duet Pen tech
The stylus for HP's new 12-inch Android tablet can be used to take notes on the tablet and paper.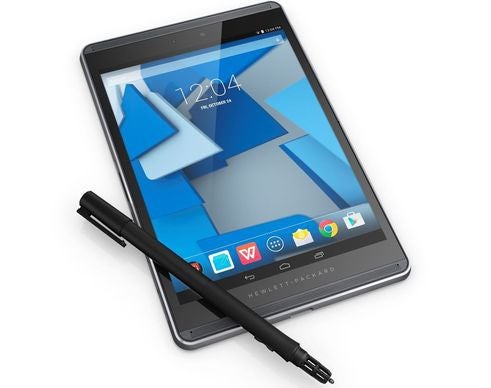 Hewlett-Packard hopes to bring momentum into the faltering market for large-screen Android tablets with the new Pro Slate 12, which stands out with a rugged 12.3-inch display and its ability to digitize notes from regular paper.
The tablet is the first with a durable screen based on Corning's Gorilla Glass 4 technology, which protects the glass from drops on rough surfaces like asphalt. It is also the first with a "Duet Pen" stylus that can be used to take notes on paper and on the tablet.
The Pro Slate 12 was one of many ElitePad, Pro Slate and Pro Tablets with Android and Windows OSes announced by HP on Tuesday. Screen sizes of the new tablets range from 8 inches to 12 inches, and are now shipping.
HP is getting ready to split its PC and enterprise organizations into two companies. HP is strengthening its consumer and business PC and mobile product lines with different prices, screen sizes and operating systems.
The Pro Slate 12, which starts at US$569, is a risky product considering that only Android tablets with screen sizes between 7 inches and 10 inches have sold well. But HP needs to boast a complete product lineup, and the tablet will take on Samsung's Galaxy Note Pro 12.2, which started shipping early last year.
The new HP tablet has best-in-class components and a 1600 x 1200-pixel resolution display. It has Qualcomm's Snapdragon 800 quad-core processor, 32GB of flash storage, 2GB of RAM and the latest 802.11ac Wi-Fi networking. It has a 2-megapixel front facing camera and an 8-megapixel rear-facing camera. Qualcomm's integrated graphics can render high-definition video.
The tablet weighs 850 grams, which is light for a device its size. Other features include a micro-SD slot and a micro-USB 2.0 port. It does not have USB 3.0 or HDMI ports.
HP also announced the Pro Slate 8, which has a lot in common with the Pro Slate 12. However, the 7.9-inch tablet sports a higher-resolution 2048 x 1536-pixel screen. The tablet is priced starting at $449.
The smaller tablet also supports the HP Duet Pen stylus, which is based on digital pen technology developed by Qualcomm. The paper-based notes taken with the pen can be digitized using HP's Paper Folio technology. The Duet Pen comes with the tablets, and isn't sold as a separate accessory. Other tablets announced by HP don't yet support Duet Pen, possibly because the devices don't have a Qualcomm chipset.
Digital pens are useful for business users who find typing on the tablet inconvenient, and the technology is improving. It's possible to take notes on Lenovo's recently announced 8-inch Yoga Tablet 2 with a regular pen or pencil.