HTC Desire 816 review: A decent phablet with a cheap data plan
HTC has joined the mid-range "phablet" fray with the Desire 816, a big phone-tablet crossover that costs only US$300 with no contract.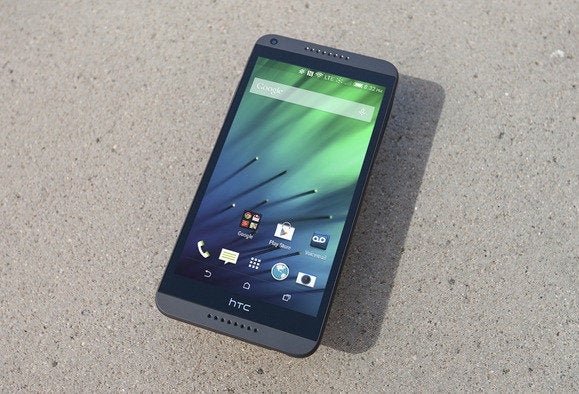 HTC has joined the mid-range "phablet" fray with the Desire 816, a big phone-tablet crossover that costs only $300 with no contract.
It's the company's first attempt at a low-cost, large-screen phone in the United States. While it lacks the frills of a flagship device, and its camera is a disappointment, the phone is still worth considering at $300 off-contract with Virgin Mobile, whose plans start at $35 per month.
Fine phablet form
Don't expect the svelte frame of an iPhone 6 Plus or the aluminum trim of a Galaxy Note 4 here. The Desire 816 is all plastic, with gray matte material on the front and sides, and a glossy fingerprint magnet rear shell. The black bezel around the screen is somewhat thick, but doesn't seem out of proportion to the 5.5-inch display.
The screen is just 720p resolution, which at this size produces slightly jagged edges on text and icons. Display quality isn't an issue, however, as the Desire 816's Super LCD panel provides consistent colors regardless of the viewing angle.
The Desire 816 also has a pair of "BoomSound" speakers on the front panel. HTC didn't skimp here, as the speakers are as loud and rich as those of the top-shelf HTC One (M8). Combined with the larger screen, the front-facing speakers turn the Desire 816 into an impressive portable video player and gaming device.
We must point out one significant flaw in our review unit: It shipped with a sticky power button that wouldn't immediately pop out when pressed. Over time, the button became stickier, and eventually wouldn't pop out at all, causing the phone's restart prompt to pop up. It's doubtful that this problem affects all units, but it's something to watch out for.
Performance and software
With a quad-core Snapdragon 400 processor and 1.5 GB of RAM, the HTC Desire 816 is running on the kind of specs you'd find in a late-2012 flagship, and is on par with many of this years lower-cost phones. Still, the phone handled transitions and animations smoothly, barely skipped a beat when switching between apps, and performed well at 3D games such as Asphalt 8 and Expendables: Rearmed. The most noticeable performance hitches came during Web browsing, as heavier pages sometimes struggled with lag and choppiness.
Unfortunately, the Desire 816's media capabilities are hamstrung by a mere 8 GB of advertised storage, which translates to about 4 GB of usable space. If you plan to store more than a handful of movies and games, you'll need to pop in a MicroSD card.
While a big battery is usually one of the main advantages of a phablet, the Desire 816's 2600 mAh battery is small for a phone of this size. It lasted for 8 hours and 31 minutes in our standard video test, compared to 11 hours for the Samsung Galaxy Note 3's 3200 mAh battery.