Imagining Apple Car: How hardcore car enthusiasts see Apple's rumored automobile
Motor Trend just doodled on the proverbial cocktail napkin, and its Apple Car vision is simultaneously sublime and disturbing.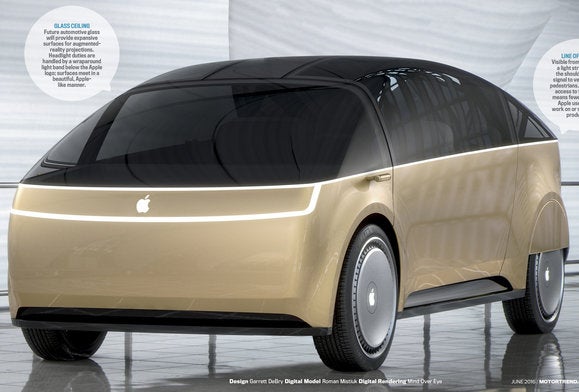 For a media brand that holds beautiful cars in such high-regard, it's difficult to process how Motor Trend came up with this antiseptic lozenge of an automobile. Credit: Motor Trend
Cars have always had a high-tech story to tell, but now automobiles and consumer electronics are on a collision course of seismic implications. That big bang in the distance is the Apple Car, currently code-named "Project Titan" according to knowing insiders. It's not a fait accompli, but all signs point to Apple working on something in the car space.
And just in case an Apple Car does see the light of day, the editors at Motor Trend want to be prepared. For a story published in the June 2016 issue (you can find the online version here), the Motor Trend editors enlisted a brain trust of automotive experts to whiteboard what an Apple Car might look, feel, and drive like.
The results, as you're about to see, are simultaneously sublime and disturbing.
Motor Trend's ideas team included designers and engineers from the ArtCenter College of Design (their automobile development bonafides look great). The magazine also tapped insights from automotive-leaning executives at Qualcomm and Google. The goal of the exercise, as the article states, is simple: "Imagine Apple is our client. And we're going to brainstorm what its car will actually be."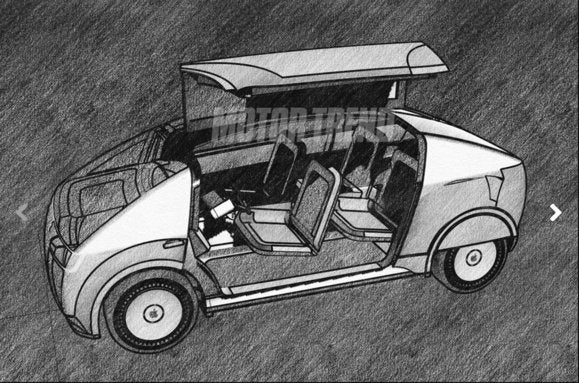 Step inside! As ArtCenter's Stewart Reed posits, "Approaching it will be like walking up to an amazing store in Tokyo, the way the door opens up and presents isn't a door you grab but a roof that raises and you walk in." Credit: Motor trend
Make sure to check out the design study for yourself. But for now, let me just share some highlights and observations.
The future will be written in hideousness
Yikes, this car is ugly. Is Motor Trend trying to troll tech enthusiasts by reimagining the Pontiac Aztek? Looking like a throat lozenge cast in iPhone gold, the Motor Trend Apple Car basically says, "OK, you nerds want a high-tech car? Then take this. It's the car you deserve."
Function informs the ugly
But there is a method to this design madness. You get a design like the Motor Trend Apple Car when you decide Apple will inevitably elevate passenger experience over driver rewards. And so the car—definitely electric, and eventually autonomous—becomes a "premium mono-volume" minivan clad in "hard-coated polycarbonates that allow expansive glass surfaces for augmented or 'merged-reality' projections." And note the massive gullwing doors that open automatically and let you walk right in. Because, you know, Apple gear "just works."