Imagining Apple Car: How hardcore car enthusiasts see Apple's rumored automobile
Motor Trend just doodled on the proverbial cocktail napkin, and its Apple Car vision is simultaneously sublime and disturbing.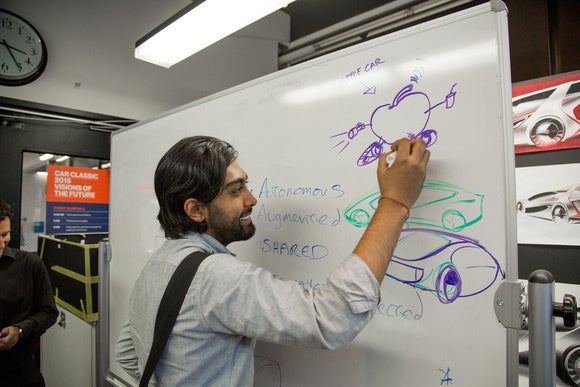 It appears an early Motor Trend vision of the Apple Car consigned a piece of fruit to continuous-tread locomotion. Credit: Motor trend
Of course there's iOS integration
Aside from stripping the surface of the car to make it look more, well, iPhone-like, the Motor Trend Apple Car has sublime iOS integration. Your phone or Apple Watch triggers touch-free entry into the car, as well as memory settings for seating, mirrors and climate control. Siri greets you upon ingress, asking for itinerary instructions. And, of course, iTunes integration will be unparalleled.
Augmented reality dashboard—the ultimate head-up display
You really need to dig into the magazine version of the design study to see all of Motor Trend's thoughtful touches. I especially like the team's approach to ambient cabin lighting, and an interior with "creviceless" surfaces—because in the future, when you're sharing vehicle ownership with others, you won't want your valuables getting stuck in seat rails. But what I dig most about this Apple Car is the augmented-reality dashboard experience.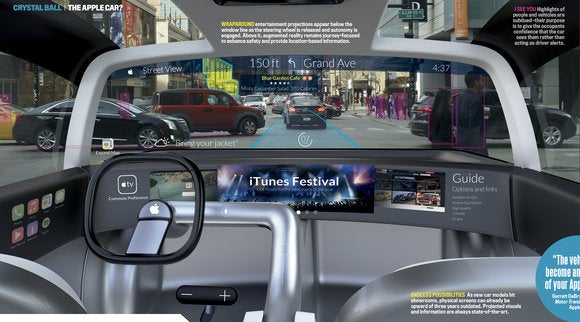 The editors at Motor Trend have imagined a fascinating vision of what a data-driven Apple Car cockpit might look like. Credit: Motor trend
Note the navigation prompts at the top of the windshield (which, by the way, is made of "thin automotive Gorilla Glass"). Note how pedestrians are outlined as targets for an autonomous driving system to avoid. As Motor Trend explains, "Their purpose is to give the occupants confidence that the car sees them rather than acting as driver alerts."
Is any of this augmented-reality vision practical or even likely? I don't know. But I love just speculating. Many, many years ago, when I was running the now-defunct Mac|Life, that magazine's editorial team went through a similar Apple Car exercise, and came up with a vision for an iCar. We imagined an Apple partnership with Audi, and aside from then-state-of-the-art iOS integration in the dashboard, the special iCar edition of the Audi TT was mostly about a merger of visual design DNA.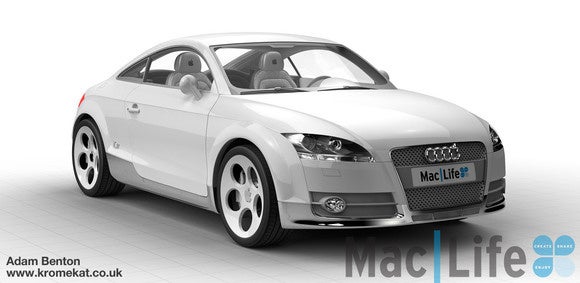 Dig the Apple logo on the wheels, and how illustrator Adam Benton tweaked the Audi logo on the front grille. The Mac|Life iCar had nowhere near the engineering investment of the Motor Trend Apple Car... but it sure looked a hell of a lot better.
Again, you really need to check out Motor Trend's image galleries to see what I mean. What do you think of their vision? Please share your thoughts in the comments below.