Intel CEO points toward wearable future with 'smart earbud', smartwatch
At CES, Intel announced the "Edison," the next-generation of Quark, along with a ton of wearable prototypes--including, yes, the obligatory smartwatch.
"You can create the environment. You're part of the environment," Krzanich said.
Likewise, Intel took the book Leviathan—a story about a flying whale ship—and "projected" it onto video that it took of the audience. "All it really requires is a tablet, a story, and imagination," Krzanich said.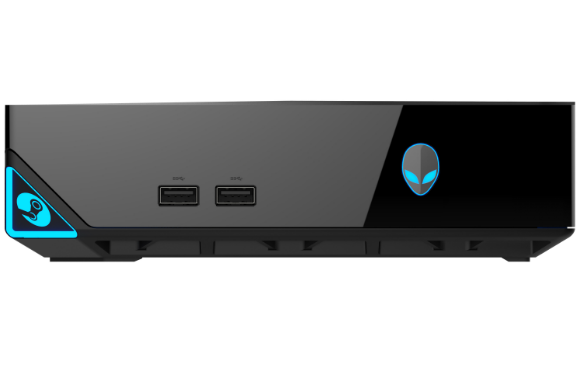 Alienware's Steam Machine.
Krzanich then invited Gabe Newell, the brains behind Valve Software and hits like the Half-Life series to show off his company's new Steam Machine PCs, which it's developing with partners like Alienware and Digital Storm. Essentially, the tiny boxes are PC "game consoles" that can run the Steam gaming service that Valve developed.
Finally, Intel also announced that every microprocessor the company announced in 2014 will be conflict-free, with minerals apparently bought from somewhere other than Central Africa, where supplies of tantalum, tin, gold, and tungsten fuel a bloody conflict.
Under Krzanich's helm, Intel has a made a renewed push into wearables. Can it use the CES hoopla to oust ARM, the leader in the space? So far, the smart money would say no. But Intel's Edison certainly has launched a high-profile challenge.
Previous Page 1 2 3