iOS 7 proves once again that change is the way Apple does business
Change can be hard for Apple, its developers, and its users, but John Moltz thinks that 'change' is just another word for 'opportunity.'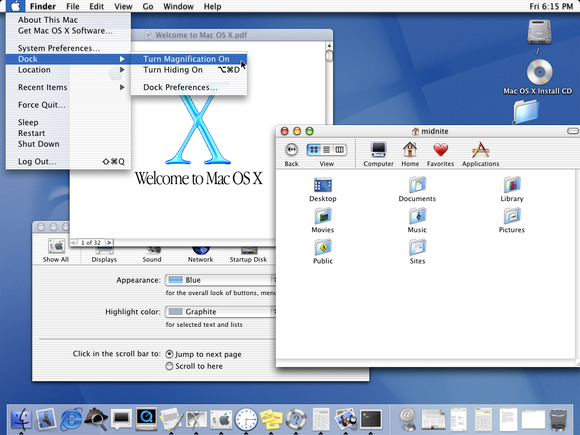 WIKIPEDIA.OS X's Aqua interface was quite a departure from the classic Mac OS, and required adjustment from users and developers alike.
But applications that used Cocoa, the language that Apple pushed with the introduction of OS X, were the way of the future. Applications coded to those native NeXTStep APIs ran faster, better, and prettier—and boy, they smelled terrific. Companies that dragged their feet in updating applications would lose users while longtime NeXTStep development shops such as The Omni Group would soon experience a boom.
The interface change from the Classic Mac look to Aqua is probably the closest analogy to the recent design changes with iOS 7. At the time, OS X commentator John Siracusa said of Aqua:
Of course, Aqua is also compelling in that it may compel some people to gag. Like the iMac, Aqua is likely to polarize consumers and competitors alike.
Polarizing is a word you hear a lot these days.
PowerPC to Intel
Much as with the 68000-to-PowerPC migration, in this situation Apple used an emulator, Rosetta, so that legacy applications could run on the new Intel-based hardware. For the most part, Cocoa applications could just be recompiled. At the time the most nervous of the various nellies claimed that developers would simply give up developing for the Mac and would tell people to boot into Windows on their Macs to run their applications. Game over, man! But, again, the opportunity was to make apps that would run faster—not just faster than applications running in Rosetta, but faster than the equivalent versions running on PowerPC.
Introduction of the iPad
iOS's second coming took the form of the iPod touch's bigger, badder brother: the iPad. Developers had long wanted Apple to provide an upgrade-pricing option for the App Store—and they continue to want that today. But at least some of them have been able to take advantage of hardware changes to entice a few more dollars out of their customers. When Apple shipped the iPad, developers had the option of making universal versions of their apps, but a host of new "HD" versions of games, as well as other dedicated iPad-only apps, appeared. The iPad versions required new graphics and new layouts, but the functionality didn't have to change much at all.
iPhone screen changes
Sometimes, though, a change doesn't directly lead to an opportunity to charge customers again. When Apple added Retina displays to the iPhone and iPad, most developers didn't charge for upgrading their graphics to Retina quality. The same held true with the iPhone 5's larger screen size. However, if your app lacked such upgrades, it would likely lose out to apps that had them. If you wanted users of new iPhones to buy them and if you wanted to keep making money off your iOS app, you updated.