iOS 9's split-screen modes signal bigger iPad in the works
iPad-only features in new OS finally bring multi-app, multi-window multi-tasking to Apple's tablet.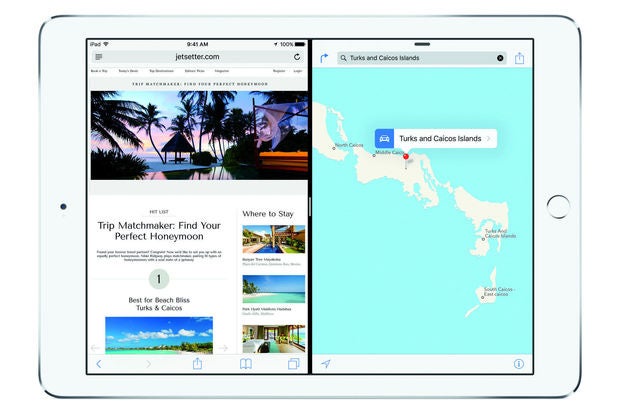 iOS 9's split-screen mode will work only on the iPad Air 2, but hints that Apple will soon release a larger tablet, analysts say. Credit: Apple
Apple on Monday gave a strong hint that it has a larger iPad in the works, analysts said today.
"Sometimes Apple gives us signs of where they're going next," said Carolina Milanesi, chief of research and head of U.S. business for Kantar WorldPanel Comtech, in an interview Tuesday. "The split screen hints at a larger iPad."
Milanesi was referring to several new features Apple touted Monday during the keynote address that opened its Worldwide Developers Conference (WWDC).
Craig Federighi, Apple's chief of OS X and iOS development, demonstrated a pair of new iOS 9 features, one dubbed "Split View," the other "Slide Over."
The former lets users see two iPad apps in a side-by-side split, work with either or both, and copy and paste content from one to the other. Split View will work only on Apple's top-tier tablet, the iPad Air 2.
Slide Over, meanwhile, lets users select and drag a secondary app onto the screen, atop the primary, in a 30-70 split, without dismissing the latter. Once the work -- envisioned as quick tasks like responding to an incoming text -- is done in the secondary, it's slid off-screen with a swipe. Slide Over will work with the iPad Air and Air 2, and the iPad Mini 2 and 3.
The idea, said Federighi, is to make the iPad more like a PC in functionality, although he didn't say it in so many words. "For many of them, their iPad is their primary computer," said Federighi of tablet users in schools, businesses and homes.
To analysts like Milanesi, iOS 9's new windows management modes -- and the multi-app management they require -- signaled that Apple would soon release the long-rumored larger-screen iPad.
Ezra Gottheil of Technology Business Research agreed. "They're enhancing the capabilities of the iPad as a business tool, but [Split View and Slide Over] will work better on a even larger screen. I got the impression that Apple wants to move some of their keyboard-using customers to iOS."
Talk of a larger iPad -- one with a screen of 12-in. rather than the current maximum of 9.7-in. -- has circulated almost since the tablet's 2010 debut. Even the launch last month of the Retina MacBook, a 12-in. ultra-light laptop, hasn't quieted analysts' predictions that Apple would venture into the bigger size, just as it did last year with the iPhone 6 Plus.
Rumors of a split-screen mode in iOS have popped up periodically as well. More than a year ago, weeks prior to 2014's WWDC, chatter intensified, with experts seeing sales opportunities in education and business as consumer tablet sales stagnated.